Welcome home: Pettersen & Hein's sculptures take up residence at Etage Projects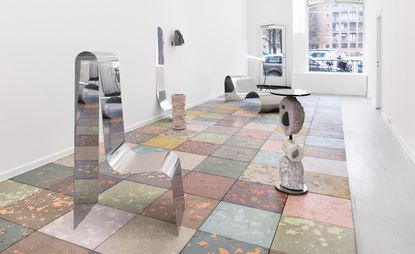 (Image credit: David Stjernholm)
What does 'home' mean to you? A space you design for yourself? One filled with furniture that makes you feel comfortable? These are questions proposed at Pettersen & Hein's latest exhibition of new works.

Known for their less-than-functional pieces, Danish duo Lea Hein and Magnus Pettersen create sculptural forms that marry those two symbiotic bedfellows: art and design. Their latest models are no different; taking up residence at contemporary gallery Etage Projects in Copenhagen, the organic concrete, steel and iron pieces create a 'home' (as the show's title suggests) that plays with notions of what we call furniture.
Installation view of 'Home' by Pettersen & Hein at Etage Projects
'We shape our furniture, and afterwards the furniture shapes us,' says the duo. It is with this aesthetic that they began their project. Using concrete as a starting material, they laid down a flooring of multicoloured tiles, covering this in an array of abstract forms (or what could be described as a lounger, chair, mirrors and lights).

While their functional purposes are not significant, the way the pieces sit in harmony is undeniable. The rough-cut concrete vases and conceptual side tables are striking on the gridded floors, while the mirrored effect of the polished steel chairs make you notice everything twice. 'The floor becomes alive and the surrounding furniture becomes like people in your "home",' the duo explains of the reflectivity of the pieces.
'Home' lounge and light
There is also a pleasant recurrence of shapes in the show. The meandering chairs and lights, the designers note, are all comparable to human bodies, swarming the area, leaning up against the wall and facing one another. We notice the anthropoid quality again in the slight facial features given to the wall sconce and side table, almost winking and welcoming us 'home'.

'In a home (maybe our "Home") there's a good mix of chaos and control,' Pettersen and Hein explain. 'This is one of the feelings we also wanted to enhance here.' It's is a juxtaposition we're happy to enjoy.
INFORMATION
'Home' is on view until 1 April. For more information, visit the Etage Projects website (opens in new tab)
ADDRESS
Etage Projects
Borgergade 15E
DK-1300 Copenhagen
VIEW GOOGLE MAPS (opens in new tab)