Perfectly imperfect: two exhibitions at Design Museum Holon celebrate the collateral damage of design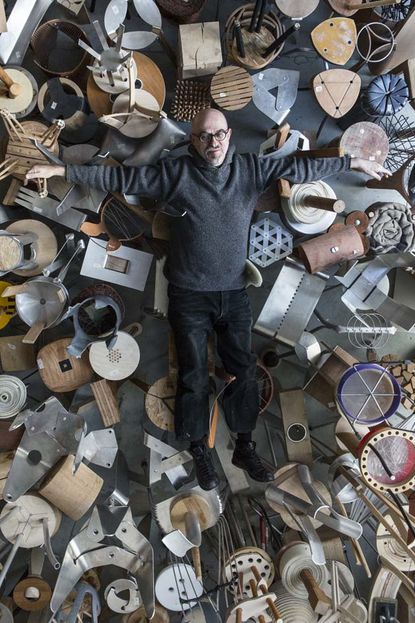 (Image credit: Yaacov Kaufman)
The vermilion steel ribbons that orbit the Design Museum Holon appear to defy construction, so at odds are they to the notion of a sturdy, timeless monument. And yet today the museum is five years into its tenure as Israel's premier design showcase.

It's with a dose of compassion, then, that the museum launches its spring programme, a tribute to trial and error in design - or, if not error exactly, then the metaphorical shoulders on which some design giants now stand. Like an evolutionary museum that lures in crowds with the remains of those unfit for survival, Holon offers a riveting show of what might have been but was, alas, not.

Jerusalem-based designer Yaacov Kaufman headlines the exhibition 'Stools', hauling in 300 experiments and also-rans created over eight years. Curator Galit Gaon likens the pieces to members of a tribe, though they illustrate not a triumph but a means to one, a creative process. Each stool is a slight mutation of the last - 'like the animation produced when flipping a flip book,' says Gaon. They demonstrate the laboriousness and multidimensionality of design - particularly of an object that's so hard to get right.

Even more extensive is 'IN-Possible', co-produced by the Alessi Museum, which highlights the flawed, untouchable, extinct proposals that never reached production - let alone the immortality achieved by so many Alessi designs. Curator Francesca Appiani presents 50 doomed proposals submitted over nine decades, by designers no less talented than Patricia Urquiola, Ettore Sottsass and Alessi luminary Philippe Starck. 'They were selected from a much bigger group of equally unborn designs,' says company president Alberto Alessi, with the purpose of emphasising the eclecticism and cultural liberality of our activity as manufacturers.'

The sketches, simulations and prototypes lay bare the dialogue between designer and manufacturer up until the inevitable veto. 'Oftentimes their execution presented insurmountable difficulties, less frequently their cost was too high, sometimes our company was too timid to introduce them on the market,' says Alessi. 'But almost no design was intrinsically too weak.' Perhaps they would have made disastrous products, but the remains make excellent viewing, like a particularly unsuccessful breed of beast. They're also an excellent reminder that nobody - not even Patricia Urquiola - is perfect.
ADDRESS
Pinkhas Eilon Street 8
Holon
5845400
Israel
Receive our daily digest of inspiration, escapism and design stories from around the world direct to your inbox