Cosmic rays: Olafur Eliasson designs 'OE Quasi' light for Louis Poulsen
The Danish-Icelandic artist scales down, shapes up and finds inner light for this Salone del Mobile launch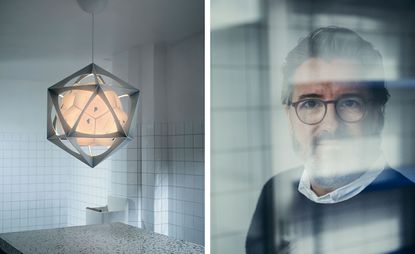 (Image credit: Fredrik Lindström)
Wallpaper* Newsletter
Receive our daily digest of inspiration, escapism and design stories from around the world direct to your inbox
Thank you for signing up to Wallpaper. You will receive a verification email shortly.
There was a problem. Please refresh the page and try again.
When Olafur Eliasson talks about light, his laid-back Scandinavian demeanour becomes more animated and impassioned. The Danish-Icelandic artist has built his career around challenging our perception of space and our place in the world, often using light as the medium. He is best known for immersive installations, such as his giant golden sun for the Turbine Hall at London's Tate Modern or the rainbow-like circular glass corridor he installed at the ARoS Aarhus Kunstmuseum. Now a new collaboration with Danish brand Louis Poulsen launching at Salone del Mobile should see Eliasson's work light up all manner of non-gallery spaces.

'When Louis Poulsen asked me to develop a new lamp, I was excited about the opportunity to make something more accessible, which could be used in contexts where my work would previously not have been seen,' says Eliasson, sitting on a well-worn leather sofa in a corner of the Copenhagen studio he shares with his wife, the art historian Marianne Krogh Jensen. The couple live around the corner from the workspace with their two children, and Eliasson travels back and forth to his main studio in Berlin, where around 100 craftsmen, architects, graphic designers and filmmakers help to realise his varied projects.
Called 'OE Quasi', the innovative pendant lamp is the artist's first collaboration with an established manufacturer. It will cost £10,000 – a similar price point to Poul Henningsen's classic 'Artichoke' lamp, also manufactured by Louis Poulsen. Eliasson admits the price means the product's accessibility is only relative, but says that the access he had to mass-production technologies has enabled him to move in new directions.

Eliasson is fascinated by the intersection between mathematics, engineering and biology, which has informed his experiments with geometric patterns, such as the crystalline forms he used in the sculptural façade of Reykjavik's Harpa concert hall. A continuation of this research, the 'OE Quasi' lamp features an outer aluminium frame in the form of an icosahedron (with 20 triangular faces) that encloses a reflector in white polycarbonate shaped as a dodecahedron (with 12 pentagonal faces). 'I wanted to work with a spherical shape,' explains Eliasson. 'Normally you would have a structure on the inside surrounded by a soft skin cladding the light, but my ambition was to reverse this, so you first see the outer structure holding the lamp together, with the soft reflecting material on the inside. Presenting the structure in this way also feels more honest, more revealing. It looks quite magical, but really there is no magic, no tricks, no secrets.'

Eliasson designed the lamp to have a presence in a room, just like Henningsen's iconic 'Artichoke' light. 'I think it looks great when the lamp claims a certain position but also illuminates the space, so it's giving something back – it's not all about itself,' he points out.
To ensure glare-free illumination, the LED light sources were placed where the metal vertices meet, with silicone light guards used to disperse the light along the frame's inner edges. The light guards produce an even illumination that is directed towards the lamp's core and reflected back into the room by the layered white laminae. The overall effect is of a glowing orb, encased in a shell that looks as if 'it could be from outer space or the bottom of the ocean', as Eliasson says.

The aluminium used in the light is 90 per cent recycled, and the design allows for future disassembly so the other elements can also be reused. 'I wanted to create a product that doesn't produce any waste and that, like many of Louis Poulsen's products, is something people will keep forever,' says Eliasson. The chance to work with efficient LED sources was another draw of the project: 'I am very interested in the ways in which light and our environment are interlinked, as well as in the transition from incandescent to LED illumination in domestic, industrial and outdoor lighting.'

Once he had developed his ideas for the lamp's form and materials, Eliasson worked alongside Louis Poulsen's team of engineers. 'We didn't just set out to create a beautiful sculpture, it had to actually be a usable lamp that distributes light in the way you want it to,' says Søren Mygind Eskildsen, Louis Poulsen's CEO, over lunch at its canal-side Copenhagen HQ. 'To be honest, it was way more complicated and costly than we anticipated,' he adds, 'but I'm so happy with the result, so it was definitely worth it.'

'OE Quasi' will initially be manufactured in one version with a width of 900mm. But 'the shape has the potential to be made in smaller variations', explains Mygind Eskildsen, 'which would bring the price down'.

Eliasson, meanwhile, admits to some pre-launch apprehension. 'I'm personally very happy with the lamp, but the difference between this and my usual artwork is that now we wait to see if it will find a place in the market. It's a bit like the build-up to an exhibition,' he adds, 'so we'll see how it goes.'

As originally featured in the May 2019 issue of Wallpaper* (W*242)
INFORMATION
'OE Quasi' light, by Olafur Eliasson, for Louis Poulsen, is on view 9-14 April. For more information, visit the Olafur Eliasson website and the Louis Poulsen website
ADDRESS
Hall 24
Stand C01 E20
Fiera Milano Rho
Receive our daily digest of inspiration, escapism and design stories from around the world direct to your inbox