Garden party: art and nature collide at ARoS' inaugural triennial in Aarhus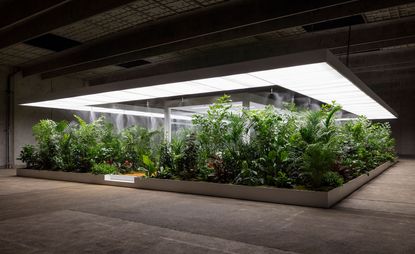 (Image credit: Doug Aitken)
As far as Erlend G. Høyersten, director of Denmark's lauded Aros Aarhus Art Museum, is concerned, there's never been a better time to unveil an ambitious art triennial. 'Not only does the museum's inaugural fair coincide with Aarhus's year-long celebrations as the European City of Culture,' he says. 'But, perhaps more vitally, the role that art plays in our society has never felt more important. Hopefully these works can affect change,' he adds.

The triennial, titled 'The Garden: End of Times, Beginning of Times', examines mankind's complex relationship with nature over the past 400 years. 'World views, such as religion, politics, science and culture have manifested themselves in man-made natural landscapes for centuries,' notes Høyersten, adding, 'We hope this gives visitors a new understanding of nature.'

The exhibition is separated into three parts: 'The Past', 'The Present' and' The Future'. 'The Past', which opened at the start of April, is situated within the confines of the museum and traces how nature has manifested itself within art. Classical landscape paintings by Nicolas Poussin and Claude Lorrain brush shoulders with poignant contemporary works by the likes of German photographer Thomas Struth, Swiss visual artist Pamela Rosenkranz and Icelandic-Danish icon, Olafur Eliasson.
The remaining two themes were rolled out in and around the capital, sparking a stimulating dialogue between art, environment and audience. California-based Doug Aitken, for example, choose to house his multi-layered sculpture, The Garden, inside a secluded industrial warehouse near the docks. The participatory piece allows volunteers to channel their inner Alex DeLarge and smash up the contents – generic white tables, chairs, sofas – of a glass anger room. This aggressive space, which broadcasts a live stream of footage from six cameras, is tempered by an outer ring of lush vegetation, which, he states, 'creates a tension between the natural and synthetic environment.'

Elsewhere, emerging French artist Cyprien Gaillard transformed the toilets of graffiti-strewn student bar – Shen Mao – with an opulent marble terrazzo floor, flecked with fragments of mother-of-pearl oyster shells. 'With Understory, [Gaillard] has created a link between the toilet and its drains to the natural life existing in Danish waters,' muses Marie Nipper, external curator of 'The Present and The Future'. While in calmer shores, US sculptor Meg Webster calls for an urgent response to the decline in pollinators across the US and Europe with Concave Room For Bees, an ecological sculpture that she cultivated close to the coastline using native flowers, grasses and herbs. She hopes the work will 'attract butterflies, bees, insects and all kinds of pollinators to the site.'

On a different note, Bjarke Ingels Group aims to lift spirits and spread social cheer with their colossal, cloud-like mobile sculpture, 'SKUM'. Inspired by 'a love of trampolines and bouncy castles,' the bubbly pavilion provides a space for people to interact and enjoy the bucolic views of the park in which its placed. Katharina Grosse's untitled garden painting proves equally exuberant. Using raspberry red and white acrylic paint, the popular German artist infiltrates the Mindeparken area of the park, including its bike lanes, beach and jetties, with a radical wash of unnatural colour that disrupts the landscape. 'It's intrinsically casual, like scribbling with a felt pen on the edge of your shoes,' she explains. 'In that sense, scribbling is a gesture that interferes with the garden's controlled principles of nature. I hope the work gives viewers a sense of freedom and uninhabited thinking.'
INFORMATION
'The Garden: End of Times, Beginning of Times' runs until 10 September 2017. For more information, visit the ARoS Aarhus Kunstmuseum
website (opens in new tab)
ADDRESS
ARoS Aarhus Art Museum
DK-8000
Aarhus