Noiz Architects take on tatami, weaving a new path for the Japanese craft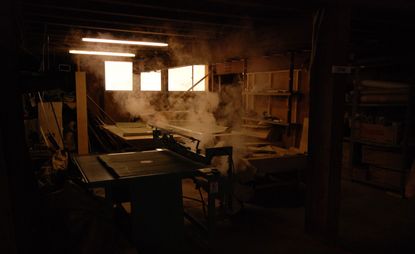 (Image credit: Press)
Not long ago, tatami (thick mats made of a core of rice straw and a covering of woven soft-rush, called igusa) were the flooring material of choice for any room except the kitchen in a Japanese house. The soft mats are comfortable to walk, sit and even sleep on, adding a layer of insulation. They are also excellent at absorbing or releasing moisture, acting as natural (de)-humidifiers. Always rectangular in form, with a standard size of about 1x2m, they have defined the Japanese concept of space as a whole for centuries. Noiz Architects (opens in new tab) (founded in 2007 by Keisuke Toyoda and Jia-Shuan Tsai) are challenging all this with their usual flair, mixing hi-tech computer programming with real-life manufacturing.

Noiz approached tatami manufacturer Soshinsha after having seen an article about a new line of non-rectangular mats that the company had been developing. Noiz wanted to take this idea even further and proposed creating an online platform that would make it possible for anyone to order their own uniquely shaped mats based on designs from a Voronoi shape generator. From information on the shape and size of the room, and the number of mats desired, the website generates a series of Voronoi patterns that the user can choose from. You can even decide the angle of the weave before ordering these bespoke tatami mats through the website. The generator takes into consideration odd angles and sizes that even Soshinsha's skilled artisans would not be able to, so what you see is exactly what you get.

In the not too distant future, Noiz envisions that users will simply be ably to scan their rooms with a 3D scanner and upload this image to the generator, which would then produce a suggested layout of the tatami. Not having to rely on standard sizes and shapes, this might just be what is needed to turn the somewhat fading tradition of these rush-mats in a whole new direction.

If everything goes according to plan the generator should be online and ready to take orders by the end of the year.