NY's Jewish Museum spotlights the creative legacy of Roberto Burle Marx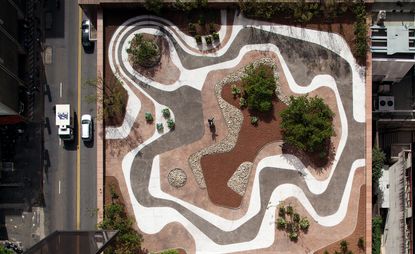 (Image credit: Leonardo Finotti)
Roberto Burle Marx, credited as one of the 20th century's most prominent landscape architects, is being lauded at the Jewish Museum in New York. 'Roberto Burle Marx: Brazilian Modernist' focuses on the full range of the artist's output and explores over 150 works – from landscape architecture to painting, sculpture to theatre design, and tapestries to jewellery. After its debut, the exhibition will travel to Berlin, Germany and right back home to Rio de Janeiro, Brazil.

Jens Hoffmann, deputy director of exhibitions and programs at the Jewish Museum, believes that Burle Marx deserves rediscovery on a large scale. 'He was one of the most creative landscape architects of the 20th century, with projects ranging from the design for the Copacabana beach pavement to large-scale projects for Brazil's capital city of Brasilia, executed with architect Oscar Niemeyer. He was an incredible creator.'

Although his Brazilian landscape design work is easily recognisable, most of the world is just not familiar with the artist's true breadth. 'Burle Marx was a veritable Renaissance man of the 20th century, and he embodied a highly contemporary way of working: crossing genres fluidly in service of a broader a worldview,' Hoffmann continues. 'His prescient attention to ever more urgent ecological issues, his disregard for the separations between fields of practice, and the courageous way he translated concepts across disciplines make him an inspiring figure for artists working today.'

In collaboration with Burle Marx, the museum will also be showing seven contemporary artists with ties to Latin America, whose work responds to Burle Marx's multifaceted legacy. 'It is a way for us to talk about [Burle Marx's] continued relevance and influence,' says Hoffmann.
INFORMATION
'Roberto Burle Marx: Brazilian Modernist' is on view from 6 May – 18 September. For more details, visit the Jewish Museum's website (opens in new tab)

Photography courtesy of Sitio Roberto Burle Marx and the Jewish Museum
ADDRESS
Jewish Museum
1109 Fifth Avenue
New York, NY 10023
VIEW GOOGLE MAPS (opens in new tab)
Daniel Scheffler is a storyteller for The New York Times and others. He has a travel podcast with iHeart Media called Everywhere (opens in new tab) and a Substack newsletter, Withoutmaps (opens in new tab), where he shares all his wild ways. He lives in New York with his husband and their pup.