Nanimarquina showroom, Barcelona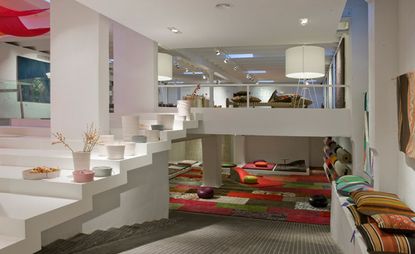 (Image credit: Nanimarquina )
Spanish rug design company, Nanimarquina, has opened its first store and showroom in Barcelona.
Situated in a disused garage, the showspace is spread over three floors and covers a surface area of 750 sq m - a spacious platform for the company's designs.
A rainbow-hued selection of Nanimarquina rugs are complimented by a series of articles, curios and objets d'art, discovered on the design team's travels around Asia, Africa and Southern America.
Baskets, fabrics, tea sets and cushions can be found peppered around, whilst wooden crates and antique furnishings inject personality to the whitewashed space.
Located on the corner of Avenue Diagonal at the epicentre of Barcelona's design scene, the showroom has, in the words of the designers 'allowed the company to transmit Nanimarquina's values directly and clearly'.
ADDRESS
Nanimarquina
Roselló
256 Av. Diagonal
08037 Barcelona