How World Design Capital 2018 Mexico City is being redefined by Archivo Diseño y Arquitectura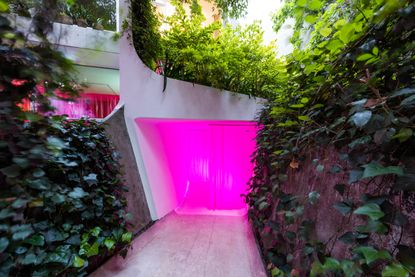 (Image credit: Arturo Arrieta)
When Mexico City was announced as World Design Capital 2018 three years ago, Archivo Diseño y Arquitectura – the country's foremost design and architecture gallery – pondered over how they could possibly respond to the designation in a timely and relevant fashion. Their answer was a trilogy of sorts, aspiring to unpack the present, past and future of the megapolis with three exhibitions over the course of a year.

Its recently launched grand finale, titled 'MXCD03', showcases seven newly-commissioned works by 14 Mexico City-based practitioners who were given the daunting task of envisioning the future of their home base — all in unlikely, multidisciplinary pairs. 'We didn't want it to look like a typical vision of the future,' explains gallery director and curator Mario Ballesteros of the speculative exercise, that is largely stripped of technological gadgets and other anticipated utopian-fantasies.

Instead, the display is loud yet subtle, at once precarious and sophisticated – much like its source material: the 22 million-strong Mexican capital. Works include a water crisis-inspired music video, courtesy of ORU architects and post-internet collective Asco Media; a floating, inflatable fortress responding to housing shortage by artist Barbara Sánchez-Kane and architect Andrés Souto, and wheeled scrap-metal vehicles imagined by designer Fabien Capello and bike makers Básica Studio as alternatives to cars.
'We wanted to challenge the notion of design and what a designer is,' says Ballesteros of the cross-disciplinary show, which pays homage to the eponymous 1956 exhibition 'This Is Tomorrow' at London's Whitechapel Gallery.

Thankfully, a thoughtful scenography by architecture studio Escobedo Soliz (responsible for the 2016 MoMA PS1 Courtyard) in collaboration with designer Eugenio Rebolleda ties together the otherwise eccentric mix. A series of pink fabrics found hanging across the exhibition spaces and expanding into the outdoors serve as a simple yet poetic compartmentalising device.

Evoking the pink tarps that famously cover the city's food markets, the exhibition design is also – and most importantly – a tongue-in-cheek commentary on the ever-changing, pink-obsessed city branding, which is to receive yet another refresh from the incoming mayor. 'We're pinker than Barragan!' jokes Ballesteros of their famed neighbour, the late Mexican modernist architect, whose home and studio is only a stone's throw from the gallery.

And how do these experiments tie in with the broader narrative of World Design Capital? The answer, certainly, is open-ended. But let's say that, rather than relying on existing successes, Archivo didn't shy away from venturing into the megacity's uncertain and complex aspirations.
INFORMATION
'MXCD03' is on view until 11 January 2019. For more informtation, visit the Archivo Diseño y Arquitectura website (opens in new tab) and the World Design Capital website
ADDRESS
Calle General Francisco Ramírez 4 Miguel Hidalgo Ampliación Daniel Garza 11840 Ciudad de México CDMX Mexico
VIEW GOOGLE MAPS (opens in new tab)