In Casa Dots, Fabien Cappello explores the visual language of Mexico's street furniture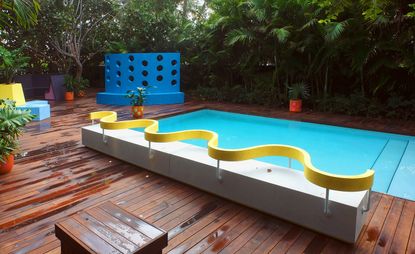 (Image credit: Frazer Harrison/Getty Images)
Here at Wallpaper*, we're bastions – some would say guardians – of good taste. And while we're absolutely champions of classic design, we're also keen walkers of the cutting edge. So it was no surprise that, for the occasion of this year's edition of Design Miami, we collaborated with the art- and design-inspired games studio Dots to create 'Casa Dots', a Fabien Cappello-designed installation at Fasano Residences + Hotel.

The games Dots creates are elegant exercises in minimalism; intuitive, abstract programs conceptually in thrall to the work of Japanese artist Yayoi Kusama. 'Casa Dots' saw Cappello – formerly based in London, but now living in Mexico City – explore the visual language of Mexico's municipal furniture, translating this into a host of vivid sculptural pieces, each referencing 'shapes and colours from the Dots gameboards, imaging scenarios where visitors are encouraged to sit together, play together, talk together, smile together', he explains.
The results were striking and irreverent; gloriously lurid, oversized and almost intangible in their cartoonish conception (clearly influenced by the work of Ettore Sottsass' Memphis Group). Design with such a communal philosophical grounding is rarely this fun, in any case.

Dots' ambitious creative collaborations don't end there. In September of this year, the studio launched 'Play Beautifully', a platform highlighting 'the creative and cultural endeavours of those who embody the studio's brand ethos' (we wrote at the time) and which initially manifested itself in a specially-commissioned film featuring professional freestyle BMX rider Nigel Sylvester.
This month, Dots presents the second in this series. Play Beautifully II is a collaboration with director GMUNK and the US Olympic gymnast Laura Zeng. 'We wanted to showcase two remarkable creators who would highlight the intersection between technology, movement, and design, bringing the iconic gameplay of Dots into the real world,' says Ondriona Monty, Dots' chief marketing officer, of the project. 'GMUNK is a creative that pushes the boundaries of cinematography and technology, and Laura Zeng is a breathtaking gymnast, dancer, and real-life Dots player so it was an electric collaboration.'

The film – a meticulously choreographed 90 seconds that sees Zeng performing a chimerical routine in front of a shadowy panel of judges, and under an ethereal canopy of glowing orbs (a daydream in between games of Dots) – was staged in a dilapidated Mexico City gymnasium. The concept, explains GMUNK, links directly back to the fundaments of the games themselves: 'Light and technology play was the heart of the Play Beautifully II film, which allowed us to create a surreal embodiment of Dots' games. We used hundreds of remote LED sources, strobes, and our custom LED gymnast ball to accentuate Zeng's beautiful and elegant contortions and to showcase the space between form and balance.' It's meditative stuff, and emotively scored with a pulsating electo-orchestral soundtrack by Dots' in-house composers Ross Wariner and Cody Uhler.

A third instalment of the series will be revealed in mid-2017.
The games studio recently revealed the next instalment in its 'Play Beautifully' film campaign. As US Olympic gymnast Laura Zeng imagines an accentuated rhythmic routine through the visual lens of Dots, watch it unfold...
INFORMATION
For more information, visit the Dots website