A fluid season: Mathieu Lehanneur's 'Spring' at Carpenters Workshop gallery, London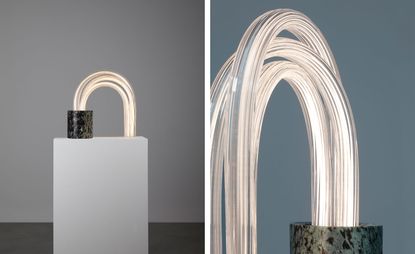 (Image credit: TBC)
There is a sense of lightness at the latest Carpenters Workshop gallery exhibition in London. Opening at the crux of where summer and autumn meet is 'Spring,' a show of French designer Mathieu Lehanneur's fluid chemistry of works.

Preceding his forthcoming 'Liquid Marble' installation opening at the V&A for London Design Festival next week, 'Spring' is yet another dose of Lehanneur's melding of technology with domestic design pieces. In an array of lighting and tables his signature style – whereby materials are transfixed somewhere between solid liquid and gas – take centre stage.

The subtle hued combination of product allows the fluidity of lines and pattern to be at the forefront. Glass never has ridged lines and aluminium is stripped of his sharpness, instead they are flowing waves, tubes or inflated bubbles. Reached through his constant experimentation and research, each piece finds itself constantly in-between; solid and liquid, design and art, furniture and sculpture.

'An object is successful when the technical feat that allowed its creation gives way to its aesthetic appeal, its desirability,' explains Lehanneur of the abstraction between the fascinating sculptures. The inflated glass bubbles and frosted tint of S.M.O.K.E Onyx differs massively from the deep waves in the low and dark 'Liquid Aluminium' and 'Liquid Marble' tables. These run alongside two new 'Spring Lamps' that stand on onyx with its glass light raze dramatically striking deep arched curves. All of this is overshadowed by the 'Les Cordes' chandelier that effortlessly protrudes from the ceiling, snaking across in simple clean glass.

Lehanneur's elegant 'Spring' show remains on view till 30 September, while the mammoth 'Liquid Marble' installation opens 17 September.
INFORMATION
'Spring' is on view until 30 September at Carpenters Workshop Gallery London. For more information, visit the gallery's website