Martin Szekely exhibition, Centre Pompidou, Paris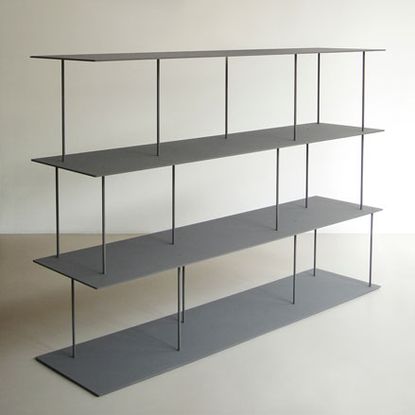 (Image credit: Rossana Nencioni)
The 'Ne Plus Dessiner' exhibition at the Centre Pompidou Paris aims to showcase the two separate strands of work that Martin Szekely has produced for both the commercial and art worlds over the last few years. Pictured here is 'Etagère Tino', from 2009
Few designers have straddled the commercial and art worlds as successfully as Paris-based Martin Szekely (opens in new tab). On the one hand he's the holder of a clutch of prestigious awards for his limited edition furniture and one-off projects for museums, private collectors and manufacturers (his Simple Boxes scooped him a Wallpaper* Design Award in 2010). On the other, he's a leading industrial designer, creating products for the likes of Heineken (opens in new tab), JC Decaux (opens in new tab), Hermès (opens in new tab) and Perrier (opens in new tab) (a glass he designed for the latter in 1996 has been reproduced a staggering 20 million times). Now a new exhibition at the Centre Pompidou Paris (opens in new tab), titled 'Ne Plus Dessiner', aims to unite the two separate strands of Szekely's work.
While the exhibition - which features 20 'art' pieces and 20 industrial products - isn't strictly speaking a retrospective, it does present the most important moments of Szekely's work of the past 15 years, ever since he first vowed 'ne plus dessiner' (meaning 'never to draw again' or simply 'no more drawing').
Szekely believes that objects aimed at the largest possible market - everyday objects that you barely notice - possess a 'power'. In both branches of his work he has been on a 15-year quest to achieve a kind of creative purity - pure functionality. 'My aim is to achieve an economy in the result that can't even be defined as minimalist,' he explains. 'It's something commonplace.'
Examples of his industrial design on display include glasses for Heineken, a digital photo frame/mirror for Parrot (opens in new tab), flasks for Roger & Gallet (opens in new tab), 'Love Seat' movie seats for MK2 (opens in new tab) cinemas, champagne buckets and service objects for Dom Pérignon (opens in new tab), and a line of street furniture for JC Decaux. The exhibition also offers visitors the chance to view a new film created exclusively for Szkeley by Canadian artist Mark Lewis (opens in new tab).
And if this isn't enough for Szekely fans, running in parallel at Paris' Galerie Kreo (opens in new tab) until 23 December is another exhibition of his work, entitled 'Units'. Dedicated to the French collector Marcel Brient, the 'Units' collection is a series of module-based flexible shelves that can be stacked whatever which way, and a round towers of drawers, which allow for 360° use.
While his ascetic, intellectual approach could leave him open to accusations of froideur, there is one aspect of Szekely's work that clearly excites him. Designs like his afore mentioned cork Simple Boxes range (W* 131) express a tangible delight in using unexpected materials. His Table Circulaire Concrete (2007) was made from Ductal - a type of ultra high performance fibre concrete normally used in construction - while his 2009 Tino shelves were spray-coated with Nextel, a suede-coating paint. Other pieces in the exhibition employ carbon fibre, crystal, Corian (opens in new tab), silver, resin and wood.
We spoke to Szekely in the run-up to the show to find out more about his provocative and at times mercurial attitude to design.
How has your work as an industrial designer influenced the more art-based strand to your output?
Some time after the launch of the Perrier glass in 1996, I came to the realisation that the glass hadn't been drawn so much as solved, based on real, tangible data. My task, in fact, had been to come up with a way of synthesising objective data. The project had a profound impact on the way I thought about my work as a designer. I now begin every project by exploring the object in question's culture, manner of production, and end destination.
It sounds like you want to 'erase' yourself from the works you create. Do you feel there is too much emphasis on signature with artists and designers?
'Ne plus dessiner' means taking an objective distance from the project. It means establishing a working method based on data external to the designer's self and available to all. It does not mean that the designer's role as author vanishes altogether; rather, the idea is to place the artistic process on a sound, durable footing.
Is your philosophy of 'ne plus dessiner' a response to the world you see around you?
It's not a response at all. Far be it from me to provide answers. Ne plus dessiner ('draw no more') is absolutely a way of signalling a step back from the frenzied consumption of commodities and signs, but more profoundly, and above all, it is a determined refusal to foreground the self, my own subjectivity.
You seem to mistrust the word 'designer'. If you're not a designer, what do you call yourself?
I approach my work like an anthropologist, a sociologist, an engineer, or even an artist, although I do not see myself as such. I tirelessly ponder the presence and use of objects in daily life. And since the answers need checking just as ceaselessly, I come up with objects and items of furniture, which I then produce. I have been doing this for 30 years now, and none of the answers are ever definitive.
What is your favourite commonplace object?
Georg Christoph Lichtenberg's 'bladeless knife with the handle missing'.
Why did you choose to work with artist Mark Lewis and what do you feel he has brought to the exhibition?
Modes of representation, imagery and writing seem to me to be necessary extensions of what I do. That's why I wanted to work with the Mark Lewis. His film is shown on a loop at my exhibition, and I have watched it a certain number of times without being able to put my finger on why I find it so satisfying. Staying enigmatic is doubtless the privilege of great works of art, isn't it?
Interview translated by Susan Pickford