Flemish master: a decade after his death, Maarten van Severen's designs are as covetable as ever
The late designer Maarten van Severen's significant collection for Lensvelt goes on show at the Silvera showroom in Paris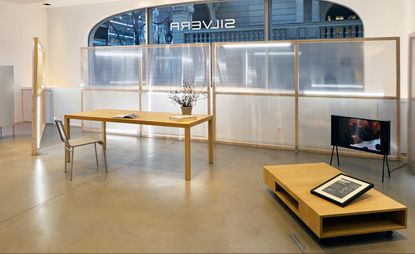 (Image credit: Maarten van Severen)
Lensvelt partnered with Silvera last week to bring an exhibition of Maarten van Severen's furniture to Paris. Pictured (from left): 'MVS CN° II' chair; 'MVS T88W' table; and 'MVS LT92' low table
The Flemish designer Maarten van Severen died of cancer at the age of 48 in 2005, leaving behind a small but perfectly formed oeuvre that is arguably more accomplished than many designers hope to achieve over a lifetime. And so, to Paris, where Dutch furniture manufacturer Lensvelt presented van Severen's pieces during Maison et Objet last week at an exhibition hosted in Silvera's showroom.

Here, exhibition curator Brigitte Fitoussi used Belgian filmmaker Blaisse Moon's film, Addicted to Every Possibility, as a springboard for the recent show. The documentary, first released in 2014 during Salone del Mobile, traces the tumultuous path of the prolific designer through the lives of his four sons (including Hannes van Severen, one half of Power-listed duo Muller Van Severen).

Moon captured a family sustained by the same artistic sensitivity as their father, all the while mirroring his flamboyant personality. '[In the film] we re-discover a genius craftsman, passionate artist, and builder-at-heart at different periods of his life, and the rhythm of his experimenting,' says Fitoussi.

The exhibition, too, marks the deeply personal relationship between the Belgian designer and Lensvelt president, Hans Lensvelt. He was both a friend and patron of van Severen who – notes Fitoussi – often knocked back shots with the designer at the corner of his workshop table, and shared his 'radical vision [and] uncompromising aesthetic'.

Visitors to the show would have seen products from Lensvelt's 'First Series', including van Severen's curvaceous, pearl-blasted aluminium'LC95' chair and compact 'S88' low armchair. It's a stark reminder of the designer's incredible talent, and in a way, quite poignantly, of his unrealised potential and what could have been.
Products on show were plucked from Lensvelt's 'First Series' collection of van Severen furniture, originally launched in 2013
Belgian filmmaker Blaisse Moon's film, Addicted to Every Possibility (poster pictured), was the inspiration for the recent show. The documentary traces the tumultuous path of the prolific designer through the lives of his four sons
INFORMATION
'Maarten van Severen: Addicted to Every Possibility' ran from 21 until 27 January. For more information, visit the Silvera website (opens in new tab)
ADDRESS
Silvera Kleber
58 avenue Kléber
75116 Paris
VIEW GOOGLE MAPS (opens in new tab)