Lettuce entertain you: Bethan Laura Wood creates installation for Tory Burch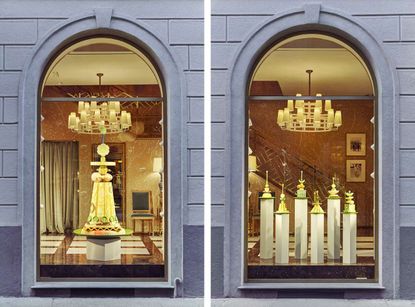 (Image credit: Marco Cella)
Nothing quite says 'party' like a canapé and a beautifully set table; this much is true. Merging both worlds with aplomb are British designer Bethan Laura Wood (opens in new tab) and American fashion designer and philanthropist Tory Burch (opens in new tab).
Marking her entrance into tableware, Tory Burch has collaborated with the legendary Palm Beach ceramicist Dodie Thayer to revive the lettuce-themed plates and accoutrements once loved by the likes of Jackie O and the Duchess of Windsor. To celebrate the launch of Lettuce Ware at Salone del Mobile, the lifestyle brand and Wallpaper* commissioned Bethan Laura Wood to create a unique installation (opens in new tab).

Known for her rather unique approach and style, Bethan set about interpreting the brand's history and design - by way of retro party nibbles. The result? Instantly cheering, pastel-toned, giant canapé sculptures.

'I was inspired by party food from the 1960s and 1970s for these canapés. I wanted the colours and patterns to really compliment the design and history of the plates,' the artist told Wallpaper* at the via della Spiga store where the installation held court during Salone del Mobile.

Disks of fake meats and cheeses, jellies, hard-boiled eggs, cucumbers, olives - and even a jumbo-sized shrimp - were all stacked on the iconic lettuce plates. A larger sculpture used the dishes as decorative garnish, too.

Each one of Bethan's sculptures was named after a TV chefs or a character from that period, 'so there's Delia, Margot and Barbara from The Good Life, Fanny Craddock and others,' explains the artist. 'I really wanted to design something that was joyful. Something for the "hostess with the most-est".'

Following their debut in Milan, the installation is due to tour around Tory Burch stores in London, Munich and New York.