Lauren Manoogian's personal Peruvian ceramics collection
The New York-based fashion designer launches Object, a 12-piece edit of rustic, hand-built vases, pots and sculptural clay objets, crafted by a community of women in San Martin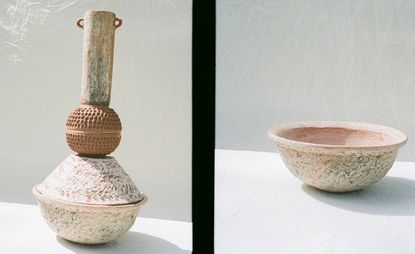 (Image credit: Andres Altamirano)
As the Coronavirus pandemic hit, Lauren Manoogian was concerned about the lives and livelihoods of artisans in Peru. The Brooklyn-based knitwear designer, whose label was born in Lima after a chance encounter with a factory owner some 12 years ago, today produces all her alpaca knits and cocooning cardigans in the region — her bucket bags alone take some 20 hours to hand knit. But Manoogian was faced with a challenge. Amidst a global pandemic, as the world is shuttering its factories and its borders, how was she to help?

First, she participated in a charity auction organised by the design community in Lima. She then decided that a portion of proceeds from the brand's sales would go to one of her neighbourhood food banks, close to her Brooklyn studio. But it wasn't enough. And so sat at home in lockdown, glancing around at her possessions, she found her answer; ceramics from her personal collection, picked up on her travels and work-related retreats throughout Peru.
'When people think of Peru, they think of textiles, but there are many interesting ceramic traditions there,' says Manoogian, who started collecting the rustic, hand-built urns on her second trip to Lima. Her first purchase was a natural red clay pot from a local woman who ran a gallery out of her house; fascinated by how each ceramic took on 'new characteristics and patinas through use', she has added to her collection with each trip since. Now, those pieces will be available to buy.

Object by Lauren Manoogian is a 12-piece edit of rustic, hand-built vases, pots and sculptural clay objets, crafted by a community of women in San Martin, in northern Peru — 20 per cent of proceeds will be donated to a Lima-based NGO which provides aid to vulnerable individuals and communities. 'We were very worried about what was happening in Peru,' she says; Latin America is currently at the centre of the pandemic, and Peru's textile exports — worth $1.5 billion in 2018 — will be hard hit. Manooigan's first foray into homewares might be a spontaneous launch, but it's still in keeping with her brand's ethos, which honours slow production and craft.
RELATED STORY
'I've always thought that building a brand is kind of how you build a life. Adding things over time as you can and following your intuition and interests, slowly evolving and changing to the circumstances with an open mind, involving your friends and people that inspire you,' she says. And ceramics, like cardigans, are tactile, with each piece imbued with the hand of the maker, be it the stitches of the knit or the finger imprints from the ceramicist on the handle of an urn. That Peruvian ceramics use natural undyed clay, in the same way Manooigan uses only undyed wools, was a happy coincidence.
'There is something really beautiful and brave about exposing only the raw material and letting the naturally occurring variations be part of the piece,' she says, of the wood-fired pots which have a 'smoky colouration' from the heat. The pots, which range from $60 to $600, are 'gestural and modern but very ancient at the same time,' she says. 'They have a real spirit in the mark making that I find so beautiful and human. Even though we are separated, these pieces feel connected to Peru and give back in some small way.'
INFORMATION
laurenmanoogian.com (opens in new tab)