Ronan & Erwan Bouroullec create an adaptable environment for Kvadrat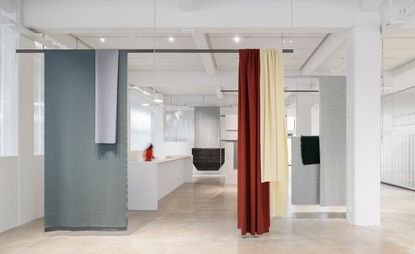 (Image credit: Michel Giesbrecht & Studio Bouroullec)
Leading the field in fabric design and innovation since 1968, Danish textile brand Kvadrat has opened a new 795 sq m HQ in Copenhagen, bringing its signature textile wares to the city's northern harbour, an enclave of creativity and innovation. Designed by Ronan & Erwan Bouroullec (who have also collaborated with Kvadrat on ranges including the 'Clouds' textile tiles and roller blinds), the concept for the outpost is centred on notions of materiality and exhibiting the genuine beauty of a fabric.

With whitewashed walls, concrete flooring and large textile canvases suspended from bespoke aluminium rails (a flexible way of transforming the showroom in a moment's notice for clients, guests and architects seeking inspiration), the space feels like an art gallery at first sight. However, as textiles are applied to even the smallest details here – think FLOS lamps sitting on solid textile board storage cupboards by Really Copenhagen, crafted out of cotton and wool (typically downgraded in existing recycling processes) – the products shouldn't be awe-inspiring pieces of art that cannot be touched; nor are they fixed entities as in a gallery. Rather, and as explained by Kvadrat, this is a working showroom or laboratory where visitors are immersed in the ongoing design process itself, encouraged to explore Kvadrat's textile universe.
This fluid concept and move away from permanent or static showroom identities was achieved by playing with light, used by the Bouroullecs to highlight both movement and materiality. To create depth and connect the expanse with Kvadrat's urban culture, different glass profiles, such as large glass windows and interior partitions like brick layering were introduced, complementing the industrial aesthetics of the interior and staying true to its Nordhavn roots.

A former storage space used by dockers, the showroom exemplifies durability, but is beautifully juxtaposed with Kvadrat's drooping, softer fabrics. Believing that textiles encourage people to behave better by unveiling a more delicate side in each of us, Kvadrat and the Bouroullecs also demonstrate that in softness there is a quiet power.
Watch the making of the new Copenhagen Kvadrat showroom
INFORMATION
For more information, visit the Kvadrat website (opens in new tab)
ADDRESS
Pakhus 48
Klubiensvej 22
2150 Nordhavn
Copenhagen
VIEW GOOGLE MAPS (opens in new tab)