Kram/Weisshaar democratise the design process with new project Robochop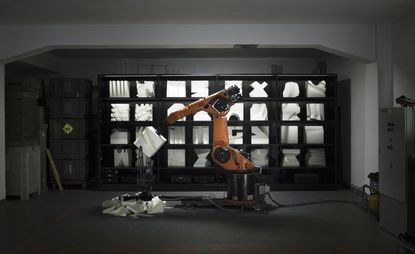 (Image credit: Matthias Ziegler)
What would you do with a giant robotic arm? Or rather, what would you make with it? That is the question the design duo behind Kram/Weisshaar, Clemens Weisshaar and Reed Kram, are posing to internet users with their new project Robochop (opens in new tab).
As of today, the designers are inviting users near and far - and CeBit 2015 show-goers in Hanover, Germany - the chance to play with the Robochop app to design, create and sculpt their own objects out of polystyrene foam.
'You can make anything,' Clemens Weisshaar told Wallpaper* at a London preview aboard Tobias Rehberger's Dazzle Ship. 'You could even make your mother's face out of foam. People have made everything from elephants and animals to furniture and art. We expect people will make whatever they like, or need.'
The foam cubes themselves are sitting height, which is intentional Weisshaar assures, being a self-declared 'furniture man', but the possibilities are endless. 'The intention with the interface is to do something that is very close to gaming; instantly rewarding, very intuitive, super straight-forward. You don't have to go to art school to learn how to use it.'
From today until 20 March, users can submit their designs to be chopped and sculpted by the 'huge, monster robot arms', currently being set up at Hanover for Code_n (opens in new tab).
As of 16 March, 2,000 individual foam cubes will be sculpted using an external hot wire tool as remotely instructed, before being packaged and posted around the world. All entirely for free. What is more, Wallpaper* has been allocated 50 VIP slots to gain priority in the production queue. (To be one of those 50, tweet us @Wallpapermag (opens in new tab) with your location and a brief description of what you'd manufacture.)
The road to reach this junction - where citizens are able to directly engaged with heavy industrial fabrication technology without obstacles or intermediaries to create an item of their own design - has been a long one. Over 10 years in fact. The learnings of two projects in particular have fed into Robochop: firstly, Breeding Tables in 2004, where the duo wrote software dedicated to a specific process, intelligently intertwining product development and media design. The anticipation at the time was always to hand over the design process to the public, but it wasn't until 2010 and their Outrace project where the public was allowed to take over robots to create messages in light. Robochop doesn't combine the two so much as it condenses the learnings of both; breaking down barriers and taking you from ipad, to robot, to final object singlehandedly.
One thing is certainly clear: Kram/Weisshaar's knack for defying expectations and breaking moulds is in good shape.