Artist Tobias Rehberger docks his 'dazzle' warship on London's River Thames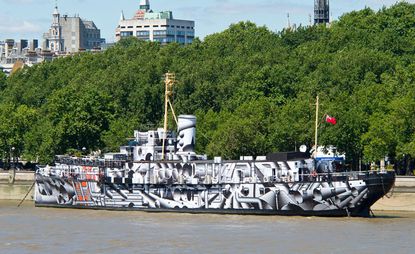 (Image credit: Chris Wainwright)
Wallpaper* Newsletter
Receive our daily digest of inspiration, escapism and design stories from around the world direct to your inbox
Thank you for signing up to Wallpaper. You will receive a verification email shortly.
There was a problem. Please refresh the page and try again.
The idea that fine art could help protect our navy at war seems a relic of a bygone century. And yet it was a rare survivor of the First World War. The scientist John Graham Kerr first presented the principle of disruptive camouflage to Winston Churchill, then First Lord of the Admiralty, a century ago. The distorted pattern was proposed not to camouflage ships but rather to create an optical illusion that made it difficult for enemy U-boats to calculate their course and target accurately.

After relentless attacks by German subs, the practice of 'dazzle painting', recognisable by its jagged monochrome stripes, was invented by the marine painter Norman Wilkinson, who supervised the dazzle treatment on some 2,000 ships, with varying success. Though Wilkinson's execution might appear to owe a fair deal to cubism (Picasso, it was noted, was not impressed), dazzling remains in a school of its own. A lifetime later, the concept has been revived by the Frankfurt-based op-artist Tobias Rehberger, who has given his old razzle dazzle to bars, galleries and now a First World War ship.

Rehberger's 'Dazzle Ship London' - commissioned by the Chelsea College of Art and Design, Liverpool Biennial and Tate Liverpool - was launched today as part of the 14-18 NOW programme of cultural events to commemorate the First World War. The freshly painted 1918 HMS President, anchored off London's Victoria Embankment, gives depth to the old crude style with an energy that touches on early-20th century genres. It is, says programme director Jenny Waldman, 'very much a contemporary artwork - a reimagining', and not entirely typical of the original dazzle style.

It is no less stunning, if vaguely threatening. And if the groups huddled at the gangplank are anything to go by, it's proven a compelling addition to the peacetime Thames. On a stretch of riverfront better known for carbon-belching tourist coaches from Germany than anti-submarine warfare, Dazzle Ship is a reason to slow down and reacquaint ourselves with a once common sight now a mere curiosity. And contemplate what else has been left behind.
ADDRESS
HMS President (1918)
Victoria Embankment
London EC4Y 0HJ
Receive our daily digest of inspiration, escapism and design stories from around the world direct to your inbox