'Home and Away and Outside': Tobias Rehberger's dazzling new exhibition at Schirn Kunsthalle in Frankfurt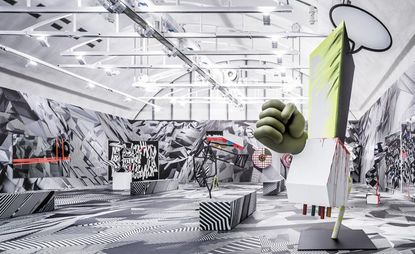 (Image credit: Norbert Miguletz)
The German artist Tobias Rehberger is a kind of environmental Op artist, creating spaces that dazzle and disorientate. And his new show, 'Home and Away and Outside', opening today at the Schirn Kunsthalle in Rehberger's home city of Frankfurt, traces what is now a career spanning 20 years of dazzle and disorientation.

Curated by Matthias Ulrich, the exhibition assembles 60 works including sculptures, installations and paintings. It opens with a new take on 'Was du liebst, bringt dich auch zum Weinen', the work that earned him the best artist Golden Lion at the 2009 Venice Biennale. Walls, floors, ceilings, sculptural objects, are all covered with the eye-boggling camouflage used by the dazzle ships in World War I. It is a strangely beguiling rather than hostile space.

Rehberger, as always, pushes and pulls at the thin line between art, architecture and design, fine art and applied art, functionality and uselessness. For one series, We Never Work on Sundays, created in 1994, Rehbeger - from memory and with scant regard to technical accuracy - drew icons of 20th century design, including pieces by Marcel Breuer, Alvar Aalto and Gerrit Rietveld. He then took them to Cameroon and, working with local artist Pascale Martine Tayou, employed Cameroonian craftsmen to make replicas based on the drawings. It questions iconography and authority, the cultural-specificity of taste and the hugely appealing not-quiteness of the furniture forces us to question the nature of that appeal, the way that we frame it.

The third part of the exhibition, housed in the Schirn Rotunda, at the entrance to the Kunsthalle, is a huge hanging light sculpture created from old neon tubes, fairground lights and advertising. A spotlight above the sculpture casts a shadow onto a round pedestal underneath and spells out a single word: regret. Darkness out of light.
ADDRESS
Schirn Kunsthalle (opens in new tab)
Römerberg, 60311
Frankfurt
VIEW GOOGLE MAPS (opens in new tab)