Curve ball: Joseph Walsh brings a unique twist to furniture design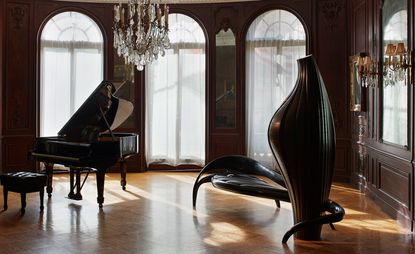 (Image credit: James Harris)
'To think I'm making objects people are going to live with is an extraordinary thing,' says designer Joseph Walsh. 'It's actually a big responsibility, without being too grandiose about it.' While his work – lyrical, otherworldly furniture typically made of laminated ash bent into flourishing forms – is regularly sold at galleries and art fairs, Walsh finds particular joy in commissioned pieces: opportunities he feels lucky to pursue.

Working with clients, many of whom repeatedly turn to him for bespoke objects, involves an intimate collaboration and highly specific brief the thirty-something Irishman cherishes. 'I love those requirements. It brings something you never could have anticipated,' he says.

A recent exhibition at New York's American Irish Historical Society offered the rare chance to see such work before settling into their final destinations. The show spanned three floors of Walsh's recent, increasingly complex achievements. A pod-shaped watch cabinet, made for a collector father and son, unfurls in sections of pear wood, fumed oak, and bronze to hold 108 timepieces.

Elsewhere, a version of Walsh's 'Enignum' sofa, marked by sinuous lines and imaginative leather upholstery, wraps around its back. Four serpentine chairs, part of a series of 24 made for the private dining room at Derbyshire's famed Chatsworth House, celebrate the individuality of diners-to-be with sui generis backrests that swoop and twist like ballerinas.

Made of Connemara marble, the 'Exilumen I' table appears to float upon its transparent resin legs. The seamless fusion of materials showcases the resourcefulness of Walsh's studio, which meticulously conducts its own research to determine new ways of making.
Detail of a watch cabinet, which can hold up to 108 timepieces
Also presented are his 'Lumenoria' table, with a curling black-dyed ash base and sculptural amber resin top, snowflake-esque 'Lilium' tables, and process pieces for 'Magnus Modus', a site-specific, 7m tall sculpture that will be installed at the National Gallery of Ireland next month.

Each object was handmade in Walsh's workshop, located on his family's farm in western Cork. Nearly 20 master craftspeople, selected from all over the world, form a pool of expertise that complements Walsh's ideas.

He views wood as a living material and prefers to let its natural tendencies – how it drapes around a frame or spirals through a space – determine its final form. 'I am interested in the idea of not insisting,' Walsh says. 'With a sympathetic approach, you can achieve shapes you never imagined, and far more beautiful.'

Like his creative process, Walsh has benefitted from living life as providence decrees. The self-taught designer, whose grandfather gave him his first tools, made his first piece of furniture at age 12 and hasn't looked back.

Walsh credits his first solo show, also at the American Irish Historical Society, in 2008, as one that challenged him to break his own rules and helped ignite the commissioned work he now holds dear. 'I could go on working and people would never see what's in this exhibition,' Walsh says. 'I'm fortunate our clients were willing to share.'
INFORMATION
For more information, visit Joseph Walsh's website (opens in new tab)