That 70s showroom: Jory Brigham's furniture is a hue commitment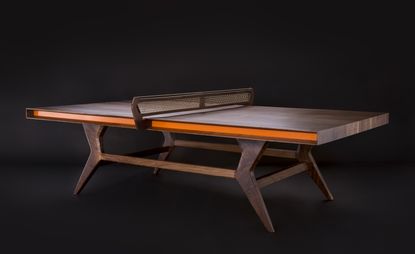 (Image credit: Ron Bez)
California native Jory Brigham grew up in Hawaii assisting his father on carpentry jobs. Brigham's homeschooling was paired with an education in hand tools, and the islands' vulnerability to hurricanes kept business going.

'I didn't love it enough to make it a career,' Brigham says of woodworking– that is, until he dived into design. The ability to create his own style imbued familiar tools and methods with new passion and potential.

In 2015, Brigham won the first season of Spike TV's furniture building competition, Framework. 'I never wanted to cheapen what I do,' Brigham says of appearing on the reality show. But the competition's time constraints led to genuine insights about his creative process, including the realisation that his reliance on routine wasn't necessary.

Furthermore, Brigham's line of gaming tables (ping pong and shuffleboard, pool to come) exists because of the show. One look at the orange-accented walnut tables and it's clear: Brigham is strongly influenced by the 70s– and its colour scheme.

'I don't know why I haven't grown out of orange yet,' he muses, adding, 'Everybody that knows me is like you were born in the wrong era.' As we talk, Brigham's staring out at the AMC Pacer he's eventually planning on restoring.

In the workshops he teaches, Brigham cautions students not to merely emulate his aesthetic. 'The only way to stay relevant in the world of design is to come up with your own style, that's the only lasting, sustainable thing,' he says. And crafting enduring furniture requires genuine joy.

Playfulness abounds within Jory Brigham's brand. In a shoot by Cana Creative, cheerleaders and their short-shorted male companions frolic around his Boardroom Collection. In his Chromatic Collection, wooden bases shaped like jacks pieces support glass table tops. A metal brace at the center of each base provides a pop of colour in yellow, red, and– yes– orange.

Brigham acknowledges that people have trouble committing to colour, but to him it's invigorating. 'Who doesn't want to feel more alive?' he asks. In the end, Brigham can sell most everyone on an appeal to nostalgia, and fond memories of palettes past.
INFORMATION
For more information visit Jory Brigham's website