Iris Ceramica Group designs culinary performance for London launch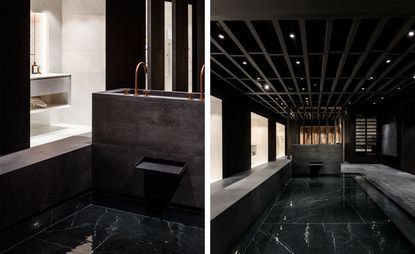 (Image credit: TBC)
To celebrate the opening of its first UK showroom in London's Clerkenwell, Iris Ceramica Group commissioned food design studio Blanch & Shock to translate the current inspiration of some of the city's most forward-thinking creative practices into canapés. Chosen for being forerunners when it comes to innovation, beauty and sustainability – the key themes that underpin the Iris Ceramica Group – the unusual appetisers were made in honour of Mamou-Mani Ltd, Brodie Neill, Paul Cocksedge, Marlene Huissoud and Jump Studios.
The three-storey London flagship marks a major milestone for the 60-year-old Italian tile maker, which makes and distributes high-quality porcelain products for residential, commercial and industrial architecture all over the world. A family-run business, Iris Ceramica was founded in northern Italy by Romano Minozzi in 1961 and is currently led by his daughter Federica who is the CEO of the Group.

In the showroom, the first floor features a co-working space and meeting rooms, the ground floor is a lounge and kitchen, and the basement is a spa. Every surface is ceramic, while brands featured include Ariostea, FMG Fabbrica Marmi e Graniti, Fiandre Architectural Surfaces, Iris Ceramica, SapienStone and Porcelaingres.
'London is the creative capital of the world and we have wanted to have a showroom here for many years,' says Minozzi, who goes on to explain that it was difficult to find and secure the right space. 'But now we have found it.' For Minozzi it is also important that they use the space to help build connections among the design and architecture community in the city, and she hopes people will feel 'welcome to come and use the space to work from, to have ideas in and to collaborate.'

To inform Blanch & Shock's' canapés, the chosen design studios each submitted colour palettes and images referencing places or environments, shapes and lines, architectural details, concepts, pattern, textures and materials that are currently inspiring their practice. Iris Ceramica Group then followed each 'from wish to dish' and served the final output to guests at the launch event. This included insect nests fashioned from goats cheese, vacuum-compressed kohlrabi, bee pollen and more.
INFORMATION
irisceramicagroup.com
Receive our daily digest of inspiration, escapism and design stories from around the world direct to your inbox