In the clear: San Francisco's FOG fair presents design in all guises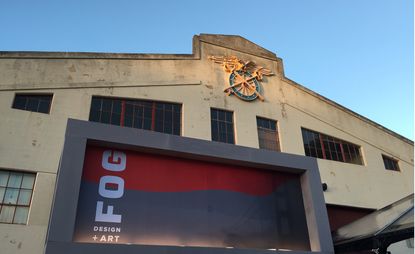 (Image credit: press)
Ask any of the exhibitors at the FOG Design+Art fair about what makes this particular aesthetic celebration special, and the response is likely to be quick and nearly unanimous: it's so uniquely San Francisco.

For the third year in a row, this four-day event – a collaboration with the San Francisco Musuem of Modern Art (SFMOMA) – sees galleries from across the US (centered, perhaps predictably, in San Fran and New York, with representation from LA, DC, Philadelphia, and Seattle), as well as London, Paris, and Mexico City, bring everything from small, take-homeable trinkets, to hands-on craft and highly polished installations, to the city's Fort Mason Festival Pavilion. This mix of mediums across a range of creative eras makes for an eclectic selection that's delightful as eye candy, but also demands a deeper look.

21POP greets guests first thing; the bulbous black-and-white installation by designer Stanlee Gatti features a series of artists working on their respective crafts – on-site, in real time – themed this year around the concept of 'Cut It Out'. Beyond that is an afternoon's worth of wandering, up and down the aisles, then up and down again. Visitors should check out the official schedule for screenings and discussions offered throughout the weekend. Above is a handful of Wallpaper's fair highlights.
INFORMATION
FOG Design+Art is on view until 17 January. For more information, visit FOG's website (opens in new tab)
ADDRESS
FOG Design+Art
Fort Mason Festival Pavilion
San Francisco
VIEW GOOGLE MAPS (opens in new tab)