Hugo França at R 20th Century Gallery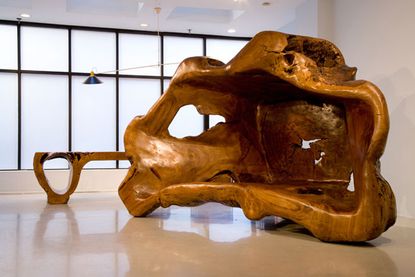 (Image credit: Sherry Griffin)
Weighing in at nearly 2.5 tonnes, Hugo França (opens in new tab)'s new 'casulo' (cocoon) sculptures are awe-inspiring in scale and ambition. The artist uses hardwoods indigenous to his native Brazil to create his monumental organic artworks and sinuous furniture, currently on show at R 20th Century Gallery (opens in new tab) in New York, crafting each piece from ancient 'pequi', a gigantic oleaginous tree that averages 45m and can live 1,000 years.
França's prior work is mainly in the hands of private collectors, though one of his pieces graces Philippe Starck (opens in new tab)'s Hotel Fasano (opens in new tab) in Rio de Janeiro. His second solo exhibition at the Tribeca gallery features, in addition to two casulos, a range of new pieces that includes seating, shelving and tables. But it's the mammoth sculptures that are really causing a stir - not just in the art world, but also as potent ecological statements. A committed naturalist, França is meticulous about the way he sources the wood, travelling through the forests, sometimes for days, in search of solid trees that have been felled or died naturally. 'Digging out the roots of an ancient tree like the pequi,' says França, 'is a mission of archaeological nature.'
Each casulo is then 'refined': carved, smoothed and shaped from the trunk or roots to create an organic space of retreat and contemplation. When finished, it inspires what he describes as 'a bonding experience between man and nature'. He encourages people to get inside the sculptures, 'as if they were a part of it'.
Given the enormous scale of the casulos, installing them in the gallery was no mean feat. R 20th Century employed a New Jersey-based firm experienced in moving sculptures by Richard Serra (opens in new tab) and Louise Bourgeois (opens in new tab). They performed the task by taking the doors off the gallery and using hydraulic cranes to lift the pieces onto giant pallets. Once the pallets had been shifted inside, the cranes pushed the sculptures into place.
Nonetheless, there was one casulo - titled 'Guapeva' - that was simply too large to transport to New York. Over 3m wide and tipping the scales at 3.5 tonnes, it remains in Brazil. Though we imagine it won't stay for long. França's creations are in huge demand, despite having price tags to match their monumental bulk (they can fetch up to $500,000). And with the supply of naturally felled pequi trees dwindling, his pieces are increasingly valuable - as much for the rarity of their material as for their artistic merit.
ADDRESS
R 20th Century Gallery
82 Franklin Street
New York, NY 10013