Grape and grain: how an Italian flooring company rolled out the barrels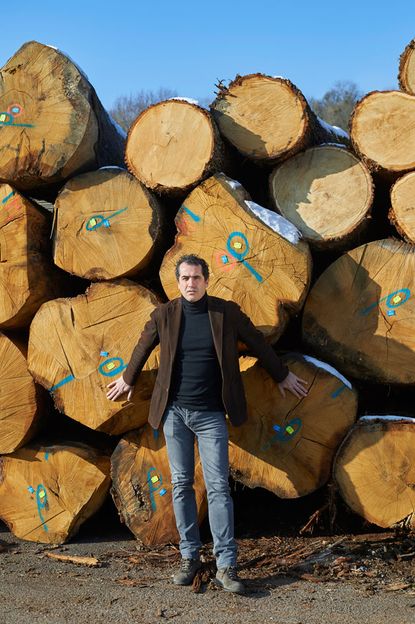 (Image credit: Sebastien Erôme)
Those who know Listone Giordano will be familiar with the fine wooden floors it has produced for decades, but may not know the company's long history. It was founded in 1870 by Eugenio Margaritelli, who worked wood on an industrial scale. A century later, his son worked with scientist and engineer Guglielmo Giordano to create a revolutionary floor covering system (the brand was given his name to honour his innovations). Today, Listone Giordano is in the hands of Andrea Margaritelli, the third generation of the family to head the operation, which remains committed to innovation and research.

The Margaritellis have another passion and pursuit. In 1946, Eugenio left the company to his three sons, and dedicated himself to establishing the Terre Margaritelli winery in his native Umbria, in central Italy.

What started as a personal passion of the company's founder has now become a fully fledged, 100 per cent organic winery based not far from Listone Giordano's headquarters. The two family ventures have become intertwined over the years, and their operations have found a common ground and purpose. 'The union of these two entities, wood and wine, is embedded in our history,' explains Andrea.
They found their trait d'union in France, where Margaritelli's father had travelled in the early 1960s to establish a factory, at a time when doing business across the Alps was far from easy (the Mont Blanc Tunnel opened in 1965). In the Bertrange forest in Burgundy, the family found the raw materials that Italy was lacking and set up a factory in the village of Fontaines, where they applied pioneering technology to wood cutting, drying and sawing techniques. 'At the time, it was unusual to see so much modernity and automation in this industry,' Andrea says. The semi-finished oak slats are then taken to Italy, where Listone Giordano does the final finishing for its flooring collections.

Margaritelli uses the same French oak for barrels, manufactured by local cooperage Tonnellerie Toutant, which are then used to age the Terre Margaritelli wines. These barrels are the bridge between Listone Giordano's two lives, but Andrea makes clear that this is not a casual connection. The Bertrange forest, where Margaritelli's production is based, was started by Cistercian Monks in 1098. Those same monks not only established a forestry tradition that is still respected today, but they also initiated winemaking in the Burgundy area, leaving a double legacy that has contributed to the identity of the whole country. 'Before we cut it, a tree reflects a millennial history that makes that material special,' Andrea notes.
His view of the family business is infused with a passion for history and tradition. As a young engineering graduate, he spent two years in the Fontaine factory, learning about wood, from the forest to the working and treating that turn it into flooring or a barrel.

'We have a very precise knowledge of the quality of wood found in each portion of forest,' he says, 'and we use this expertise to select the trees that will give us the best barrel results,' Margaritelli points out. 'I haven't found another winemaker as obsessive as us,' he adds, only half-jokingly.

Under his guidance, Listone Giordano has also embraced contemporary design. 'All the designers we work with immerse themselves in the origins of what we do,' he says. Michele De Lucchi, the brand's first collaborator, was inspired by the forest itself, as well as early wooden floors. The asymmetric slats of his flooring designs are inspired by the evolution of a tree, and the way the trunk narrows as it rises. More recently, Patricia Urquiola paid tribute to what is possibly the most famous parquet in history – a floor commissioned by Louis XIV for Versailles in the 1680s (it was revolutionary, Andrea explains, to substitute the existing, precious marble floor with wood).

These collaborations are pushing Listone Giordano into new territory. Dubbed Biscuit, Urquiola's collection is also used as a wall panel, and the company is developing its first three-dimensional furniture collection with the designer, due to launch later this year. 'This is what makes design interesting,' Andrea continues, 'the fact that it's not just an aesthetic exercise, but a way to get to the core of things, of explaining their origins. All products from our collection have new forms but are based on solid thinking, and are anchored to this thousand-year history.'

The next stage in that history is the creation of a legacy back in Listone Giordano's home country. Andrea has initiated a reforestation project in Umbria, planting 160 hectares of oak trees. This is typical of his modus operandi: learning from history then applying his knowledge to the present, while at the same time creating a heritage for future generations. 'With this new project in Italy,' he says, 'we will have reinstated a sustainable forest cycle in two centuries or so.'
As originally featured in the April 2017 issue of Wallpaper* (W*217)
INFORMATION
For more information, visit the Listone Giordano website (opens in new tab) and the Terre Margaritelli website (opens in new tab)
Rosa Bertoli was born in Udine, Italy, and now lives in London. Since 2014, she has been the Design Editor of Wallpaper*, where she oversees design content for the print and online editions, as well as special editorial projects. Through her role at Wallpaper*, she has written extensively about all areas of design. Rosa has been speaker and moderator for various design talks and conferences including London Craft Week, Maison & Objet, The Italian Cultural Institute (London), Clippings, Zaha Hadid Design, Kartell and Frieze Art Fair. Rosa has been on judging panels for the Chart Architecture Award, the Dutch Design Awards and the DesignGuild Marks. She has written for numerous English and Italian language publications, and worked as a content and communication consultant for fashion and design brands.