At Hong Kong Department Store, savour local design and the city's forgotten crafts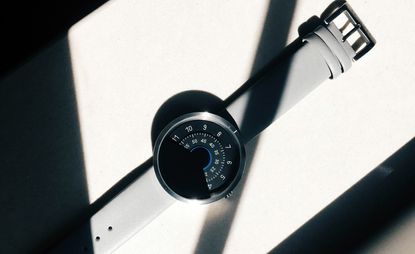 (Image credit: Press)
Under the watchful eye of reform-minded Governor during the 1970s, Hong Kong – then still a British colony – was booming as a global manufacturing hub, exporting well-designed, high-quality goods. A decade later, the industry began to move northwards to mainland China and artisans were left behind with empty factories. Today, a new generation of designers is asking: what is Hong Kong design now, and how can we revive the concept of 'Made in Hong Kong'?

To wit, Gallery 27 and Studio Miro's recently launched concept Hong Kong Department Store answers precisely that, with the first of a long-awaited exhibition series showcasing local design talents and the oft-overlooked craftsmanship rooted in the city.
Among the 14 participating designers and brands was independent watchmaker Anicorn, which first found success with a timepiece crowdfunded on Kickstarter. Anicorn was founded by graphic designer Joe Kwan and his partner Chris Chan, who comes from a watch-making family. The duo add a contemporary spin to the city's watch manufacturing heydey with a refreshed modern design language. Taking pride of place at the exhibition – which popped up for two days only – was a set of four giant shelving systems designed by Studio Miro. Made of galvanised-steel – a material typically found in older parts of Hong Kong – it captured the spirit of the show, with each shape representing a Chinese character which together spelled out 'Hong Kong Department Store'.

Studio Miro co-founder Michael Leung, meanwhile, invited ceramics artist Niko Leung (and fellow Design Academy Eindhoven student) and raw food chef Gee Wong for a delicately sumptuous collaboration. Leung had spent a month in Arita, Japan, during the summer, experimenting with techniques and working with local clay, and molding a collection of tableware inspired by Wong's creations for a unique dining experience.

Elsewhere, Moon Laboratory – a brand exploring the relationship between objects, aromas and space – worked with perfumer Jodie Chan to create six scents inspired by Hong Kong city life, presented in the form of scented candles and crystals. A special-edition container made from recycled metal parts from rice cookers was realised by upcycle designer Kevin Cheung. Little Jadeite is a brand created by product designer Eddie Tam together with his father, one of the last artisans in Hong Kong still working in jade. Their jewellery collection combines traditional artisan making with modern metalwork to give a new future to this dying craft.

Design and craftsmanship – both things that take time to nurture – seem counterintuitive to the values of a city notorious for its fast pace of life. 'There are a lot of talents among our generation but there has not yet been a platform originating in the city to showcase the quality and thinking of this group of local makers,' says Leung. Hong Kong Department Store could just be the springboard that these designers need.