Gov.uk wins Design of the Year 2013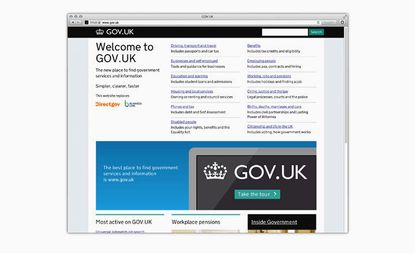 (Image credit: TBC)
Happy faces might be rare at London's Number Ten these days, but there will be smiles all round at the news that Gov.uk (opens in new tab) has won the Design Museum's (opens in new tab) Designs of the Year Award 2013 (opens in new tab). In fact, no matter what your politics, this groundbreaking website designed by the Government Digital Service (opens in new tab) is truly worth celebrating. Already being held up as a benchmark alongside such other British graphic icons as Margaret Calvert (opens in new tab)'s road signs, and Harry Beck (opens in new tab)'s tube map, the new Gov.uk has achieved the seemingly impossible: making interacting with government straightforward.

An exercise in sophisticated simplification, Gov.uk combines all of the UK government's websites into a single domain. Where most websites look to keep visitors reading as long as possible, design director Ben Terrett (opens in new tab) explains that here, the opposite is true. 'We want the experience to be fast and easy, so if people are spending ages on one page, it's not working,' he says.

Among a host of initiatives to make politics more transparent, the website adheres to a strict style guide. Visitors will no longer be baffled by words such as 'tackling' (unless the context is about rugby), 'deliver' (unless it's about pizza or post, not policies), and 'disincentivise'. The winning design was chosen from 98 entries to claim the overall prize, and the award was collected by Terret and Mike Bracken, executive director of Government Digital Service.

The Rt Hon David Cameron MP, Prime Minister and Conservative Party Leader said: 'For the first time, people can find out what's happening inside government, all in one place, and in a clear and consistent format. It is just another example of Britain's world class design talent standing out on the global stage.'

Six other projects were also awarded as category winners, including the Tour Bois-Le-Prêtre (opens in new tab) in Paris, designed by Frédéric Druot, Anne Lacaton and Jean-Philippe Vassal for the architecture category; and Lisa Immordino Vreeland's 'Diana Vreeland: The Eye Has To Travel (opens in new tab)', for fashion. Konstantin Grcic (opens in new tab) picked up the award in the furniture category for his Medici Chair for Mattiazzi (opens in new tab), the Venice Architecture Biennale (opens in new tab) identity by John Morgan Studio won best graphics, and Kit Yamoyo by ColaLife (opens in new tab) and PI Global (opens in new tab) won best product. Finally in the transport category, Vitamins (opens in new tab) won with the Morph Folding Wheel. They have reinvented the wheel, and in doing so – like the Government Digital Service – they've proved that going back to basics is the key to great design.
ADDRESS
Design Museum London
28 Shad Thames
London SE1 2YD