Bethan Gray designs limited-edition bottles for Glenlivet whisky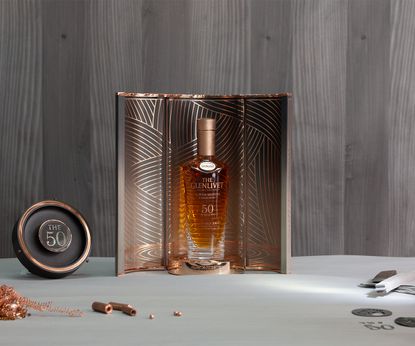 (Image credit: The Tlenlivet)
Many crossovers led to the collaboration between Welsh designer Bethan Gray and Scottish whisky maker Glenlivet. The 194-year-old distillery liked the British designer's combination of natural materials and craftsmanship, and that fact that her grandfather was from nearby was also a bonus. 'He was a research forester and helped replant the Cairngorms National Park (in which Glenlivet's distillery is located) with indigenous trees after the Second World War,' explains Gray.
Gray created 150 limited-edition bottles and display cases to celebrate the launch of Glenlivet's latest Winchester Collection. Local references abound; each bottle was hand blown by Scottish master glassblower, Brodie Nairn at his workshop in Tain, and feature incisions that fade from bottom to top and from front to back. 'I wanted to emphasise how the whisky, which is a 50-year-old single malt, changes from light brown to a dark honey colour as it ages,' says Gray. 'Hand blowing bottles is very difficult. You need to know just how much glass will create a vessel for an exact amount of liquid,' she adds, estimating it was a one in eight success rate.
The collection is created in honour of Glenlivet's master distiller Alan Winchester. 'I wanted to incorporate Alan's passion for the local countryside into the design,' says Gray. Each case lid is inlaid with mother of pearl taken from the fresh water mussels that populate the River Spey and the cases themselves are grey, to echo the barrels in which the whisky is stored. (These are recycled from the bourbon and sherry industries and are then set alight, a process which infuses the whisky with a subtle smoky flavour.)

The copper inlay on each box is a nod to Glenlivet's copper stills, or vessels, in which the whisky is distilled. Its Dhow pattern is a motif that has become synonymous with Gray's design, appearing on her furniture and ceramics.
Each bottle costs £20,000, but as single malt whisky catches up with fine wine as an investment, its value is sure to rise. Assisted, no less, by its elegant design.
INFORMATION
For more information, visit the Glenlivet website, or Bethan Gray website
Emma O'Kelly is a contributing editor at Wallpaper*. She joined the magazine on issue 4 as news editor and since since then has worked in full and part time roles across many editorial departments. She is a freelance journalist based in London and works for a range of titles from Condé Nast Traveller to The Telegraph. She is currently working on a book about Scandinavian sauna culture and is renovating a mid century house in the Italian Lakes.