Gaetano Pesce launches the limited-edition 'Six Tables on Water'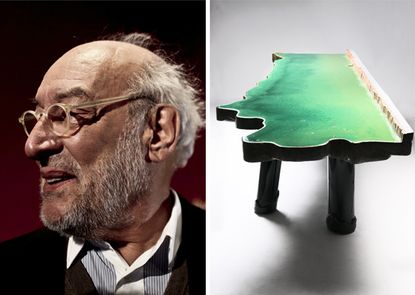 (Image credit: John Rohrer)
Italian-born, New York-based designer and architect Gaetano Pesce's latest work is a limited-edition sextet of tables called 'Six Tables on Water'.

With their irregular edges and lusciously glossy surfaces, these are typically unorthodox: Pesce has experimented with materials for decades. Take, for example, his iconic, innovative, 1969 'La Mamma' chair, made of polyurethane foam, bounced up into shape once released from its vacuum-sealed packaging. His monumental new tables - with tree trunk-thick legs made of rigid polyurethane foam and tops in PVC, epoxy resin, soft urethane resin and sand - represent six variations of water: an ocean, lagoon, pond, puddle, river and lake, and were created in Pesce's workshop in Brooklyn.

Their lustrous surfaces cleverly evoke water's transparency or cloudiness, thanks to the use of clear or opaque resin. In jewel-bright jade green, sludgy khaki, inky ultramarine and grey, the 'waterscape tables', as they're also known, convey the impression of expanses of water seen from an aeroplane.

Intriguingly, they feature Lilliputian details that invite close inspection: one table representing Venice's lagoon features tiny patches of darker pigment suggesting polluting chemicals; the one based on a lake (Lake Garda) incorporates steps leading to it.

Most 3D elements can be removed when the table is used. Like all Pesce's work, the tables straddle design and art; they're functional and meaningful. They make a statement - that water is vital to life yet people don't respect it. The idea for them was conceived a year ago during a conversation between Pesce and David Gill, whose London gallery is exhibiting them until 22 December.

We caught up with Pesce in London to find out more about his intriguing new creations.

Your new work looks different from the much more organic pieces you're best known for, such as your resin vases. Are these tables a departure for you?
No, they're made from resin, too. I don't use materials like bronze and wood as they belong to the past. I use contemporary materials like resin, which is flexible and can be liquid and so best expresses our fast-changing world.

You equate art with design. Why?
Originally, there was no difference between them: art was once functional, fulfilling the role photography plays today. A painting of a city once gave its owner a practical view of the city, a sort of map; a portrait aimed to create a realistic record of a person. Like art today, I think design makes statements, as these tables do.

Is there a directly ecological message behind the tables?
Yes, but in a thought-provoking not moralistic way. The work is an observation that we see beautiful rivers or lakes where people toss their rubbish.

You believe design has the potential to be political. Can you give an example of one of your designs that is?
Yes, the La Mamma chair - which recalls a woman's form and has a footstool resembling a ball and chain - was a feminist statement about women being prisoners of prejudice. The tables are also about people's lack of respect, in this case for the environment.

How were the tables made?
I start off doing sketches and making small models. For me, the process of making pieces is very physical. I visit my workshop every day and use my hands while creating my work as ideas come when you work instinctively.

The tables incorporate figurative elements - tiny tyres, fragments of roads and miniature trees. Why is that?
I believe in figurative not abstract forms as people recognise these and connect more deeply with them. In this sense, I think computers are good as the figurative images on them are widely recognisable - computers communicate a universal language.