Going, gone: the Four Seasons Restaurant's sale of the century pips $4 million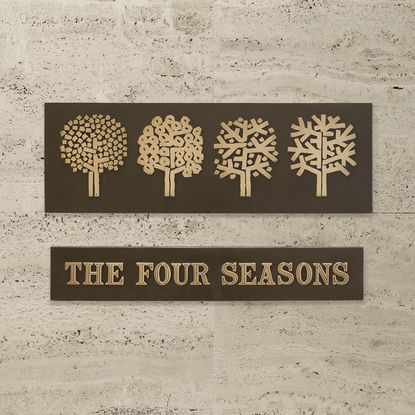 (Image credit: press)
Following a tete-a-tete with the building's operators over prospective architectural renovations and interior alterations, the Four Season's owners – Julian Niccolini and Alex von Bidder – made the difficult decision to close shop and relocate. The former Restaurant's midcentury wares have been auctioned in a huge sale at Wright. Pictured: Emil Antonucci's seminal Four Seasons sign sold for $120,000, despite a $5,000–$7,000 estimation
It was back in June that we reported the news that the Philip Johnson-designed Four Seasons Restaurant – a 'pharaonic temple to modernism' located in the Seagram Building, wrote Aaron Peasley – was due to shutter. Following a tete-a-tete with the building's operators over prospective architectural renovations and interior alterations, the owners – Julian Niccolini and Alex von Bidder – made the difficult decision to close shop and relocate.

Though the Four Seasons name and reputation will live on, its historic environs are set to become a fond memory. Not so the furnishings and tableware though, which have been sold by Chicago-based auction house Wright. The historic offering – a startling 863 separate lots – fetched, collectively, over $4 million.

Beginning with Emil Antonucci's seminal Four Seasons sign – a sight to moisten the eye of many who regularly swept into the hushed, urbane interior; a sentiment reflected in the $120,000 sale price, despite a $5,000–$7,000 estimation – the auction saw a veritable feast of furniture, glassware, crockery, plant pots and restaurant apparatus pass hands; some a little scuffed, but talismanic all.

These included a number of bar stools designed by Mies van der Rohe and architect Philip Johnson; 'Tulip' tables and stools, designed by Eero Saarinen and formally used in the Grill Room bar; a bevy of Philip Johnson Associates Grill Room banquettes and van der Rohe 'Brno' chairs and 'Barcelona' lobby loungers; Hans J Wegner's Grill Room mezzanine armchairs; and a quite incredible amount of Garth and Ada Louise Huxtable drinking glasses, varied tableware, caviar bowls, oyster dishes, cooking pans, serving carts and wine coolers. (Not to mention the kitchen's anonymously-designed cotton candy machine, check holders and more ash trays than even a masochistic chain smoker could shake a stick at.)

With that, the Four Seasons Restaurant's identity and history – so evocative of time and place – is dissipated, but hopefully among the former patrons that loved it most. Niccolini and von Bidder may be moving further up Park Avenue – in a setting designed by Brazilian architect Isay Weinfeld – but the Four Seasons' spiritual home will forever be at number 375.
INFORMATION
For more information, visit the Wright website (opens in new tab)