FontanaArte hosts a design showcase at Gae Aulenti's house
It's open house at Gae Aulenti's place during Salone del Mobile as FontanaArte explores the legacy of the art director who made Milan's Brera district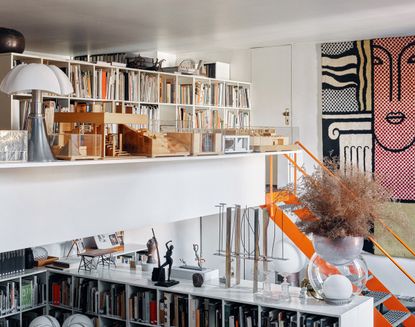 (Image credit: Federico Torra)
Before Futurism reached full swing, Milan was taking its fledgling steps towards becoming a mini-metropolis. New architecture attracted the creative community that would transform it into the design capital of the world. Among them was Gio Ponti, intent on building a company where design and technology could shape creativity and innovation. In 1932, he co-founded FontanaArte with Luigi Fontana and Pietro Chiesa, and the trio went on to work with some of the biggest names in Italian design.

These days, the company's creative direction is steered by Francesco Librizzi, who keeps Milan's past in mind as he looks forward to its future. Since the times of Leonardo da Vinci, people have moved to Milan to study and work, making it a city of migrants and creators who care deeply about cultural progression. Librizzi has used this creative heritage to open a dialogue between the masters of Italian design, past and present. He felt that, with Salone del Mobile in town, this April was a good time to show the parts of Milan that have impacted on, inspired and contributed to the spirit of FontanaArte. To do so, he selected three figures fundamental to the city's history – Gae Aulenti, Stefano Boeri and Gio Ponti.
Aulenti was FontanaArte's art director from 1979 to 1996. She made Milan's Brera district – where she bought both her apartment and office in 1973, reconfiguring them to connect via a doorway on the top floor – her creative base of operations. Aulenti's family now uses the space, which is just as she left it, as the home of her official archives. During Salone, the public will have the opportunity to see inside Aulenti's house, usually only open by special appointment.

'Her time at FontanaArte led to some of the most radical pieces in Italian design,' says Librizzi. 'Her "Tavolo con Ruote" table is a work of architecture, not design. It surpasses its function as a mere object with a symbolic, structural movement.'
Aulenti lived in her Brera apartment from 1974 until her death in October 2012. Its interiors reflected her eclectic tastes, including furnishings of her own design, such as the 'April' folding chairs created for Zanotta in 1964. A limited-edition Roy Lichtenstein carpet dominates one wall of the living room, while the sofa is covered in a fabric that she picked up on her travels. Even her 'Festo' table, designed for Zanotta, sports a custom felt top. One of Aulenti's architectural additions to the apartment was a walkway over the living room that leads to a solarium overlooking Piazza San Marco, lit in the evening by one of the 'King Sun' lamps she designed for Kartell in 1967. In the bedroom, books from her extensive library overflow onto stools. Among the many pieces that Aulenti designed for FontanaArte is the 'Tour' table, with a bevelled glass top resting on four pivoting bicycle wheels.

Elsewhere in the city, Gio Ponti is celebrated at the Torre Branca, a building he completed in 1933. 'It was the first modern mark on the urban landscape,' Librizzi says. 'It is an observatory but also a landmark. You look at the city from it, while, in turn, the city looks at it.' Meanwhile, at the FontanaArte showroom, Stefano Boeri will present a new lamp designed for the brand. 'He has a unique approach to the dimensions of the city and landscape,' Librizzi says, having personally selected Boeri for this project. 'We consider him to be a bridge between our heritage and the future'.
It seems that FontanaArte is intent on bridging this gap in 2019. When your brand is so rooted in history, it is important to acknowledge this, while remaining as committed to the contemporary as Gio Ponti and his peers were back in 1932. 'We are proud to mark the start of Salone with locations that are symbolic for us and for Milan,' says CEO Giuseppe Di Nuccio. 'We are both Milanese and international more than ever before.'
As originally featured in the May 2019 issue of Wallpaper* (W*242)
INFORMATION
Gae Aulenti Archive is at via Fiori Oscuri 3; Torre Branca is at Viale Luigi Camoens 2; and the FontanaArte flagship store is at Corso Monforte 13, Milan. For more information, visit the FontanaArte website (opens in new tab)