Ceramic success: Fefo Studio has all the right ingredients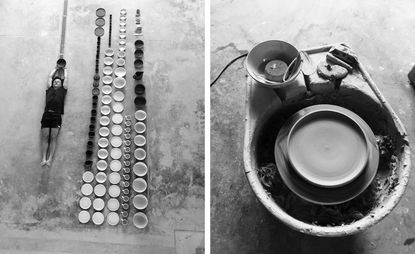 (Image credit: press)
Growing up in Jáchal, Argentina, Fernando Aciar remembers helping his mother make cakes for first communions. As young as eight, he approached baking with the detail of an architect. By age fifteen, he was paying his sister to help whisk eggs and selling pies to fund trips with his friends. But it was never about the money that could be made, rather, an attraction to the elements of the baking process.

'Cooking was a way to escape through the art of transformation,' Aciar says.

Fortuitously, Aciar's first job was with chef Francis Mallmann, whose performative (albeit traditional) cooking style has captured the global imagination. Snatched up into Mallmann's world at the age of 18, Aciar found himself in close proximity to artists, bohemians, and their patrons.

'More than food, I learned [with Francis] living well,' Aciar explains, 'You can work hard but you want to work hard with joy.'

Aciar went to work with chef Alice Waters and then did food consulting in São Paulo. From there he moved to Rio where he opened Café du Lage in the scenic urban oasis Parque Lage, where The School of Visual Arts of Parque Lage is also located.

New York City's own creative students were in luck when Aciar moved to open O Café in 2011 just steps from The New School. Youthful energy flocks to the West Village spot, where students become baristas and part of the café family. Aciar also opened a location on the New School campus in 2015 and operated nearby organic spot Feel Food from 2014- 2015.

When Aciar's world collided with fellow Argentine Marcelo Joulia in 2015, he was already feeling that restless urge coming back: the will to transform. Nostalgic for the clay he'd also experimented with as a child, Aciar signed himself up for a class at Greenwich House Pottery.

The decision was easily justified when he was able to create all of the plates and cups for O Café. Fefo Studio was born. Unsurprisingly, people took notice when their acai bowl came cradled in brightly accented ceramics. Aciar favours cups 'in the shape of the hand,' although his baristas spoke up when their latte mugs became too asymmetrical to make foam art.

Joulia is a restaurateur and architect known for opening Paris restaurant Unico and designing Blossom Hill Inn in Hangzhou– on our list of Best Urban Hotels in 2015. Aciar met Joulia when he wandered into O Café on a visit to New York.

The two quickly bonded over shared interests and came up with a plan: Aciar would stay in residence at Joulia's beautifully restored Tarascon-sur-Rhône estate, Mas Cartier. While Joulia filled the home with good food and friends, Aciar would outfit it with custom ceramics spun from the Provencal landscape the estate sits upon.

The plan developed over the course of 2016. By February, Aciar was researching kilns– finally finding the perfect studio in nearby Les Baux. He stayed at Mas Cartier for four weeks this summer with his assistant Autumn Gilbert.

Admiring the finished collection, one knows it could not have been made anywhere but Provence. Aciar responded to the sights, smells, textures and tastes of the region with the sensitivity of an artist whom all things travel through.

'I consider myself an artisan because I create things to be used,' Aciar explains.

However, aesthetically no detail escapes his notice. In a favourite photo, he lies beside the entire collection– laid out in a grid, like a chef's mise en place. Black clay pieces symbolise a frame for the white clay, which is a window into the layers of the landscape.

Melon-coloured paint splashes from the rim of Aciar's espresso cups, echoing the fresh fruits Joulia's guests dined on. He recalls the eaves of the estate appearing to burst into flame during sunset, bringing literal meaning to the term 'sun-kissed.'

Tendrils of green on a salad bowl represent the tree line, visible above the infamous fields of lavender and sunflowers. Sloping blue imprints on serving bowls mimic the curve of Joulia's Tulip-style chairs, and the dome of the sky coming down to meet the crops.

At the end of the visit, Aciar cooked a meal covered in leftover clay, 'giving it back to the earth' in the style of Andean tradition. 'It was very idealistic,' the artist says of the ritual, but perfect for a former chef with a near-religious adherence to sustainability.

Both O Café and Fefo Studio are expanding come October 2016 with a wine-focused location and adjacent design/concept store on the Lower East Side.

When asked whether his residency was a transformational experience, Aciar answers with a wholehearted yes.

'There is no way to go back,' he says.
INFORMATION
For more information visit the Fefo Studio website