Eco-visionaries to the rescue at London's Royal Academy of Arts
A new exhibition at the Royal Academy in London explores the precarious relationship between humans and nature that has been thrown out of balance by our accumulatively dangerous activities. Architects, artists and designers offer up their unique approaches into a laboratory of prototypes, concepts and emotive pieces that break down headlines into experiences.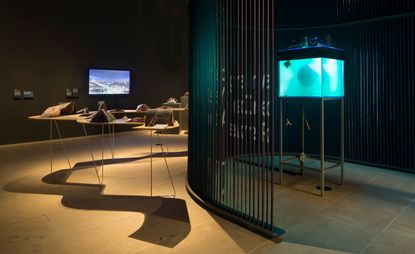 (Image credit: Agnese Sanvito)
Ever since scientists spoke out about the negative effects of modern life on the environment in the 1950s, artists, designers and architects have attempted to use their unique skills to rebalance the Anthropocene. In 1960 Buckminster Fuller and Shoji Sadao proposed a 3km dome over Manhattan to regulate pollution; in 1965 artists founded alternative commune Drop City in south Colorado; while in 1982 artist Agnes Denes harvested a 2-acre crop just two blocks from Wall Street.

For the latest exhibition at London's Royal Academy of Arts (RA), a team of curators – Gonzalo Herrero Delicado, Pedro Gadanho and Mariana Pestana – have selected 21 of the 'eco-visionaries' of today from across the fields of art, design and architecture. Their contributions, from models, installations and prototypes, to film and photography, each reveal a 'complex mesh of forces at play beneath the headlines' says Gadanho, architect, former MoMA curator and director of Lisbon's MAAT museum.

'The ecological crisis feels familiar to us but the information comes to us in numbers, statistics and data. This exhibition allows visitors to engage in a more subjective and emotional way, to feel what the crisis might be and understand the complexities through works that take you on a deep journey through some of these problems,' continues Pestana, architect and co-founder of curatorial collective The Decorators.
Across this laboratory, technology, science and data come alive through visual means. For example, Alexandra Daisy Ginsberg has collaborated with AI experts DeepMind to create a digital reproduction of the last male northern white rhinoceros, who died in March 2018. The animal roams its virtual space, an eerily empty white box, growing into its form through pixels of information and rare zoological archive footage.

Bringing colour and new meaning to data, London-based architect and researcher Nerea Calvillo floats a veil of colour above Madrid, which detects and highlights microscopic pollutants in the air. The colours flow over the city, rising and falling over the course of the day.

It's easy to get lost in the meditative motions of both of these works, but they are powerful warnings too, showing the important role that artists can play in making data come to life, capturing attention and inspiring awareness (something that scientists, with all their merits, are not as good at).
An opening film by Ana Vaz and Tristan Bera compiles an assemblage of popular culture scenes, documentary clips and found footage into a convincing introduction to the route of our failing Anpothrocene. Through the windscreen of a car we zoom through the roaring 20s, to the sky highways of science fiction ending up in a Day After Tomorrow apocalypse scenario. Aggressive snapshots of capitalism, inequality, Frankenstein, school shoot outs and industry are played to a soothingly lyrical narrative.

Hearts and minds are similarly captured in the work of artist collective and interactive theatre group Rimini Protokoll. Their work, Win Win, made in 2017 and exhibited in the UK for the first time here, is an immersive piece that invites visitors to become part of a questioning process that seeks to explore ecological empathy. It's an eery performance that results in a group of jellyfish peacefully floating in a tank, a sinister forewarning of how certain species will thrive within the chaos of climate change.
Some of the architects' contributions respond to the changing world with technology and design, seeing the future as a place where technology will allow us to survive here on this earth. Philippe Rahm's meteorological park in Taiwan creates a moderated environment reducing humidity, pollution and even eliminating mosquitos.

More speculatively, a 3d printed resin model of WorkAC and Ant Farm's work City, Climate, Convention, Cruise, from 2015, imagines a floating community that improves relations between humans and animals – inspired by Ant Farm's iconic 1970s ideas.

Animals and their uncontrollable accumulation or extinction as a signal of the permanent and irreversible damage that we have caused is a reoccurring theme. 'Extinction is one of the most urgent problems, and it has accelerated to 1000 times more than it should be. The extinction rate has an effect on eco systems and food chains, and we are not biologically or technologically prepared for it,' says Pestana.

More traditional works of art in the exhibition use beauty combined with factual information to grip the audience. Olafur Eliasson's photographs from the Ice Melting Series, 2002, poetically show the process of blocks of glacial ice melting into the terrain in Iceland; while Danish artist Tue Greenfort uses delicate black and white prints of Tilapia fish to draw attention to the growth of the predatory species that is threatening the flourishing of other fish.

The works successfully use images, facts and ideas to agitate a chilling tension between fear and optimism across the whole exhibition. 'We started with an optimistic vision, but then realised how dire the situation was,' says Gadanho. 'However, we certainly wanted to end on a bright note of how architects and designers are imagining solutions to problems, and the fundamental role of the imagination.'
Low waste exhibition design
The Royal Academy of Arts is also putting their ideas into practice with a sustainable approach to the exhibition's design by Delvendahl Martin Architects. The team used reclaimed materials, and avoided single use plastic with the aim to reduce the exhibition's carbon footprint and minimise waste.

Much international experience in exhibition design, from Venice to Gwangju, has illuminated Delvendahl Martin to the problems of the architecture of temporary display where bespoke creations have no life beyond the end of a show.

This show was an important moment for them to reflect critically on how they can help solve this by salvaging elements from previous RA exhibitions and collaborating with textile designer and upcycling expert, Barley Massey, to create a modular display intervention that can even be reused in a new formation.
INFORMATION
Eco-visionaries: Confronting a planet in a state of emergency
23 November 2019 – 23 February 2020
The exhibition was jointly initiated by the Fundação EDP/MAAT Lisbon, Bildmuseet Sweden, and LABoral Spain and Matadero Madrid.
ADDRESS
Royal Academy of Arts
Burlington House
Piccadilly
Mayfair
London
W1J 0BD
Harriet Thorpe is a writer, journalist and editor covering architecture, design and culture, with particular interest in sustainability, 20th-century architecture and community. After studying History of Art at the School of Oriental and African Studies (SOAS) and Journalism at City University in London, she developed her interest in architecture working at Wallpaper* magazine and today contributes to Wallpaper*, The World of Interiors and Icon magazine, amongst other titles. She is author of The Sustainable City (2022, Hoxton Mini Press), a book about sustainable architecture in London, and the Modern Cambridge Map (2023, Blue Crow Media), a map of 20th-century architecture in Cambridge, the city where she grew up.