Duo of Nendo exhibitions at Maison & Objet, Paris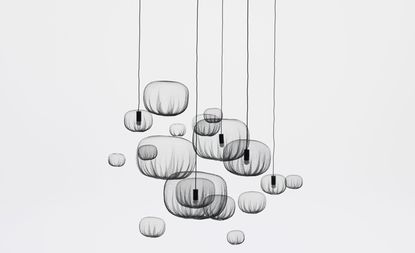 (Image credit: press)
The Tokyo and Milan-based design group Nendo (opens in new tab) has had a busy few months. Earlier this year, they were named 'designer of the year' by our illustrious panel of judges for Wallpaper's 2012 Design Awards. Now, in celebration of its tenth anniversary, the company - headed up by Oki Sato - is in the midst of a spate of exhibitions. Following a retrospective in Tokyo, they are currently putting on a duo of shows in Paris during Maison & Objet.

Settling in at Galerie Pierre-Alan Challier (opens in new tab) until 17 March is 'Object Dependency'. The canny collection of 14 pieces looks to invert the functional purpose of furniture with a series of 'weak furniture' by Nendo, intentionally created to be structurally incomplete. The pieces - the most memorable being a bookshelf that only becomes stable when books are placed on it - are inherently dependent on the addition of objects.
Carpenters Workshop Gallery (opens in new tab) is host to 'Static Bubbles', a testament to the Nendo approach of reshaping the familiar. A collection of poured and blown molten-glass tables (created in conjunction with glass-blowers) are on display along with a selection of sculptural objects fashioned out of agricultural wire.
As is typical, Nendo's designs are disarmingly simple at first sight, but on closer inspection reveal themselves to be clever and innovative, in construction, concept or both. Canadian-born Sato provides what he epigrammatically calls a small '!' moment. And over the past ten years, there have been plenty of those moments at Nendo.