Pierre Yovanovitch wins Wallpaper* Design Award for Designer of the Year 2019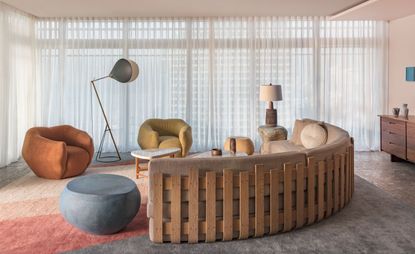 (Image credit: Photography: Jérôme Galland)
French designer Pierre Yovanovitch scoops the hotly contested Designer of the Year Wallpaper* Design Award. See the entire Judges' Awards winners here.

Pierre Yovanovitch

In the odd times through which we are living, it is fitting that Pierre Yovanovitch should be crowned our Designer of the Year. That's not to say the work of the Parisian designer is odd (though it certainly has an enigmatic charm), but it is remarkably different from what's come before, and from what anyone else is doing. It's fair to say Yovanovitch is a virtuoso. His atelier, founded in 2001, might be associated with interior design and architecture, but Yovanovitch is better described as a master of form, material and space.

Yovanovitch has been commissioning furniture for his interior projects since he founded his studio, but last year the launch of his 'Oops' collection for R & Company in New York (W*223) demonstrated his charisma as a designer in a different context. These sculptural, curiously bulbous pieces, bearing witty names like Monsieur Oops, Mama Bear and E.T., were fully formed characters with lives of their own.

The story continued this year with a masterful installation at a former bishop's palace for the International Festival of Interior Architecture in Toulon. Yovanovitch brought the collection to life in a riotous romp of a film – L'Érotomanie de Mademoiselle Oops – telling the tale of their fictional owner and revealing his skill as a scenographer at the same time. Compelling expression combined with seductive charm is evident in his growing body of interior work too. From a winery in the Douro Valley to hotels in Meribel, Zermatt and Comporta and private residences in Paris, Moscow, LA, Tel Aviv and London, it's no surprise he's in hot demand.

View the Tel Aviv apartment here

There is an unmistakeable confidence in Yovanovitch's work. It is simultaneously bold and whimsical, rigorous and humorous. While many interior designers are stuck earnestly mood boarding each other's work, Yovanovitch has forged his own path, deftly directing the skills of the many craftspeople he works closely with (and credits). He brings spaces to life from his imagination, not Pinterest, and hence they feel vivid in reality and don't just look good in photos. Yovanovitch is a man whose work is anything but derivative. As such, he is one of the most intriguing designers of our times.
Established: 2001
Based: Paris
Key projects: Debut furniture collection, 'Oops'; various interiors projects, including the redesign of a 1910 private residence in Brussels and an apartment on Paris' Left Bank

DESIGNER OF THE YEAR SHORTLIST:

India Mahdavi
This year, Iranian-born designer India Mahdavi lent her elegantly eccentric vision to macaron expert Ladureée's new salon de thé in Tokyo and also took the reins on the renaissance of the Monte-Carlo Beach hotel, evoking nostalgia for the Riviera of the 1920s. She packed a visual punch during Salone del Mobile with a collection for bathroom specialist Bisazza Bagno, presenting soft, supple curves in three delicious shades – pistachio, blueberry and strawberry – and also designed a pop-up nightclub for Nilufar Gallery, complete with Mahdavi-drawn patterns on a sweeping silk mural.
Established: 1999
Based: Paris
Key projects: Bathroom collection for Bisazza Bagno; pop-up nightclub for gallerist Nina Yashar; rugs for Golran; Ladurée salon in Tokyo; Monte-Carlo Beach hotel
Daniel Arsham, Alex Mustonen and Ben Porto, who together make up Snarkitecture, applied their signature monochrome style to a range of recent projects, including 'Fractured' seating for Berlin brand Pentatonic, which was constructed from post-consumer waste and ergonomically heat-formed into a two-seater bench. The studio also created an installation with Caesarstone during Milan Design Week exploring the changing forms of water and, in July, it celebrated its tenth birthday with an exhibition, entitled 'Fun House', featuring a large-scale foam-block gabled house, at the National Building Museum in Washington DC. It launched its inaugural monograph, covering more than 70 projects, and also ventured into fashion, collaborating on an installation with COS that involved a snaking marble run suspended from the ceiling of the Gana Art Gallery in Seoul.
Established: 2008
Based: New York
Key projects: 'Fractured' bench for Pentatonic; 'Altered States' installation for Caesarstone; installation for COS; 'Slip' chair for UVA

Piero Lissoni
Lissoni has had a prolific year. He steered the launch of Velò, a collection of wood finishes made using advanced technology devised by wood veneer company Alpi. He also refreshed the traditional cast-iron radiator in collaboration with Antrax IT – cast in recyclable aluminium in five embossed finishes, the 'Waffle' balances technicality and design fluidity. His 'Grid' table for Glas Italia, featuring an internal metal mesh, is a lesson in suave transparency, while his innovative multi-living 'I-table' for Kartell also doubles up as a small cooktop. For historic door handle company Olivari, he offered a simple, slender, lightweight design, while his soybean-inspired 'Eda-Mame' sofa for B&B Italia is a fusion of three different types of seating – high-back chair, easy chair and pouf.
Established: 1986
Based: Milan
Key projects: Velò for Alpi; 'Waffle' radiator for Antrax IT; 'Grid' table for Glas Italia; 'I-table' for Kartell; 'Plume' door handle for Olivari; 'Eda-Mame' sofa for B&B Italia

Studiopepe
Studiopepe has become known for its refined furniture, objects and interiors. Recent design collaborations with the likes of Agape, CC Tapis, Botteganove, Atelier de Troupe and Solid Nature demonstrate how founders Arianna Lelli Mami and Chiara Di Pinto have transitioned from set designers to well-rounded creatives. The studio showcased its prodigious output with the Club Unseen installation. A haven from the hectic buzz of this year's Salone del Mobile, it was conceived as a private members' club that spanned seven distinct rooms. It featured bespoke interiors that merged graphic shapes, grid patterns, pastels and metallic finishes and involved all the new pieces launched this year by the duo, including three wallpaper patterns designed for Wall & Decò. The Milanese outfit has also turned its hand to fashion, teaming up with womenswear label Alysi to design a sophisticated boutique in which the clothing and interiors share a common thread – a linear ceiling structure of black metal cleverly alluding to clothing racks.
Established: 2006
Based: Milan
Key projects: Club Unseen at Milan Design Week; fashion boutique for Alysi in Milan; a floor for Amsterdam homewares store Co van der Horst.