Crystal clear: 'Pop-Up: Sklo/Glass' goes on show at Prague's new ZIBA museum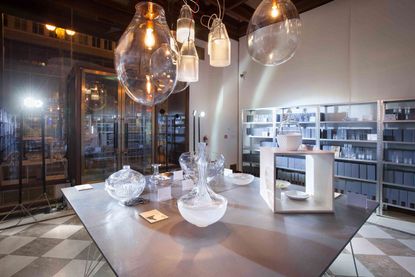 (Image credit: TBC)
On Prague's bustling high street, Na Prikope, the massive windows of a stunning neo-renaissance building displays spheres, bulbs and other striking shapes made from glass. The exhibition named 'Pop-Up: Sklo/Glass' is on now until the end of June, with talk of a possible extension. Hosting a series of temporary shops and installations from four leading glass design studios and brands, it serves as an exquisite example of the city's current glass scene.

Featuring lighting, interior pieces, studio glass and tableware, 'Pop-up' is being held inside what will be Prague's first modern museum of glass, ZIBA. Set to open in 2016, its name derived from the banking code used for the former trade bank once housed inside the 19th-century building. The three floors of permanent exhibition space will be dedicated to the presentation of modern Czech and international glass making.

In the capital city, the Czech Republic's centuries-old glass making tradition is being united with contemporary design. Newly formed modern brands and manufacturers are blending classic techniques with new technologies. These contemporary collaborations are offering a platform for designers and glassmakers to mold, melt, cut and blow their pieces into their own distinctive, modern aesthetic.

At street level, the space will house the first flagship shops of some of the city's leading contemporary glass brands. As the building undergoes renovations to accommodate the forthcoming museum, installations like Pop-Up are providing a teaser of what's to come.

In a minimalist showroom setting, strikingly simple lights, lamps and interior objects from glass design studio Dechem - recent winners of a Czech Grand Design Award (opens in new tab) - are on display. Next door, 'Made in Bor' features jaw dropping chandeliers and glass blown objects from four artists based in Novy Bor, an area in the Czech Republic where the glassmaking tradition dates back 600 years. At the corner of Na Prikope and Nekazanka, 'Manifest' features the uniting of art, design, architecture and craftsmanship from the glass studio at Prague's Academy of Art (UMPRUM) led by renowned Czech designer Rony Plesl (opens in new tab). Presenting its full collection of new products under one roof for the first time is leading glass brand BOMMA (opens in new tab), including an ethereal window display of giant spherical lamps inspired by last year's 'Tim Burton and His World' exhibition.
ADDRESS
ZIBA, o.p.s.
Na Příkopě 858/20,
110 00 Praha 1,
Czech Republic
VIEW GOOGLE MAPS (opens in new tab)