Formafantasma reimagine leather in surprising ways for Fendi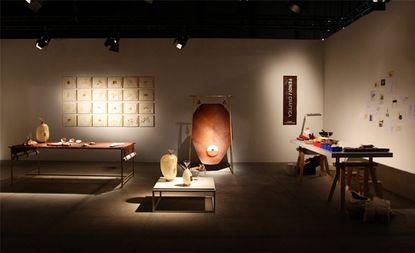 (Image credit: Fendi)
To be honest, a fish kin hot water bottle wasn't a product that we expected to see from Fendi (opens in new tab) any time soon. Nor was a bulbous translucent carafe quite clearly made from a cow bladder. But then that's what happens when you choose to commission Dutch-dwelling, Italian designers Formafantasma (opens in new tab): surprises are their speciality.

These examples are just two of a vast, varied and still growing collection of one-off creations being produced for Fendi's latest Design Performance programme - this time at Design Miami/ Basel (opens in new tab) following previous creative adventures in Miami and Milan. Making a focal point of craft and making, the Fendi collaborations - Craft Punk in 2009, Craft Alchemy in 2011 (See W*146) and now Craftica - see innovative emerging designer-makers create works using discarded leather from Fendi's manufacturing processes, laying bare their processes through live demonstrations.

Having shown at Design Miami/ Basel last year with Gallery Libby Sellers (opens in new tab), Andrea Tirmachi and Simone Farresin of Formafantasma already know their market well. The Fendi installation - a poetic and thoughtful show involving much more than bloated bladder vessels - now sees them sail into the radar where they will be seen by the heavy hitter collectors.

'People have many associations with leather,' explains Tirmachi. 'We wanted to explore the powerful symbolic connotations that this material has, and people's complicated relationship with it.'

Tracking the history of leather from parchments and ancient tools to water carriers and furniture upholstery while also exploring its sexual, protective and ecological sides, the duo have combined the Fendi leather with other (un-exotic) fish and animal leathers from food industry waste, as well as vegetable leathers from tree bark and cork. All the skins have been tanned to maintain their original colours and textures, and fashioned into evocative, organic forms. The designs of the final pieces hold a distinct memory of the animal, fish (or tree) it once was.

Fendi selected FormaFantasma for the project 'because the young design studio has already displayed an exceptional gift for inventive material investigations, as well as a highly refined and seductive aesthetic sensibility'. Encouraging their clients to wholly place their trust in the practice, Tirmachi and Farresin rarely know what the exact outcome of their projects will be themselves - preferring instead to immerse themselves in the process of experimentation. While a surprise is always something to be expected with them, in the case of Craftica, however, the experience is an extremely pleasant one.