All that jazz: Cooper Hewitt's love song to 1920s American design is bursting with nostalgia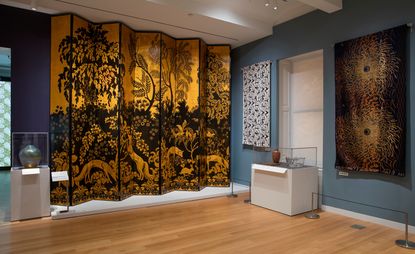 (Image credit: Matt Flynn)
Change, whether it be political, economical, or social, is always in the air. But perhaps no era welcomed as much radical, yet creative, change as the 1920s.

'It was an age of miracles,' F Scott Fitzgerald once wrote of the Jazz Age. 'It was an age of art, it was an age of excess, and it was an age of satire.' Nearly a century later, Sarah Coffin, a curator at Cooper Hewitt, agrees with the late author. 'Their lives were changing,' she said. 'People were expressing themselves differently after [the] post world war era and were lifting the gloom.'

Upon discovering many of the museum's artefacts from the 1920s after its renovation in 2014, Coffin joined forces with the Cleveland Museum of Art to display 'The Jazz Age: American Style in the 1920s'
'Actaeon', by Paul Manship, 1925.
As a mélange of jazz from modern composers like Wynton Marsalis and Carlos Henriquez simmers in the background, 'The Jazz Age' looks at the era's achievements in fashion, décor, architecture, and more through an American lens — a rarity when discussing the period. 'Nobody has taken a look at what the Americans were doing in the 1920s and it turned to be a huge topic and influenced the nature of design in the 1930s,' Coffin explained.

With over 400 works spread across two floors of the New York museum, highlights range from Lobmeyr glassware that was originally displayed at the 1925 Exposition des Arts Décoratifs et Industriels Modernes (the historic Paris design fair attended by many Americans) which later traveled to eight American museums; to a Cartier strap bracelet adorned with timely tutti frutti gems, to Paul T Frankl's geometric bookcase that mirrored America's enviable skyscrapers.

Bursting with nostalgia, 'The Jazz Age' revives the roaring twenties and proves once again that change can be a good thing.
INFORMATION
'The Jazz Age: American Style in the 1920s' is on view until 20 August, and then at Cleveland Museum of Art from 30 September – 14 January 2018. For more information, visit the Cooper Hewitt website (opens in new tab)
ADDRESS
Cooper Hewitt, Smithsonian Design Museum
2 East 91st Street
New York, NY 10128
VIEW GOOGLE MAPS (opens in new tab)