Skin deep: New York's Cooper Hewitt presents its definition of 'Beauty'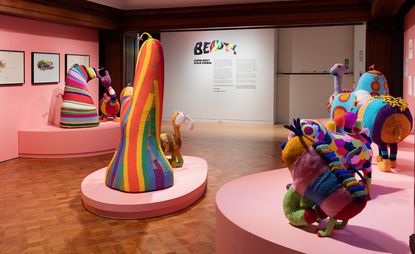 (Image credit: Matt Flynn. Courtesy the Cooper Hewitt)
As concerned about aesthetics as the design world can (and ought) be, beauty, as a subject unto itself, tends to get short shrift. With its new exhibtion, 'Beauty – Cooper Hewitt Design Triennial', New York's Cooper Hewitt Museum is taking a stab at defining the concept.

To do this, curators Andrea Lipps and Ellen Lupton pulled together more than 260 works, created by a roster of 63 designers. They grouped these into seven themes: Extravagant, Intricate, Ethereal, Transgressive, Emergent, Elemental, and Transformative. Each is meant to present a different dimension of beauty.

On view until 21 August, the exhibition occupies two full floors of the recently renovated museum. In many ways, it's an exercise in difference – ranging from the restraint of Industrial Facility's office supplies or Daniel Rybakken's glassworks and the expressiveness of the Haas Brothers, for example. A catalogue, Beauty, also compiles everything into a single volume.

The exhibition, designed by New York architecture firm Tsao & McKown, was itself a design challenge. Unlike other shows, which often feature serial elements of similar scale and media, 'Beauty' needed to accommodate a wide range of works, from Jenny Sabin's architectural installation to Noa Zilberman's finely wrought, face-worn jewellery. 'We wanted to make sure the exhibition design was not about yet another thing to look at,' Tsao explains. 'We let it fade into the background so the viewer could focus on every piece.'

The show cuts across myriad disciplines, from fashion, graphics, product design, architecture and beyond. A mixed bag (intentionally so), there should be something for everyone. As Tsao puts it, 'beauty is in the eye of the beholder'.
INFORMATION
'Beauty: Cooper Hewitt Design Triennial' is on view until 21 August. For more information, visit the Cooper Hewitt's website
Photography: Matt Flynn. Courtesy the Cooper Hewitt
ADDRESS
Cooper Hewitt
2 East 91 Street
New York, NY 10128