Top 5 studios to look out for at Collective Design Fair in New York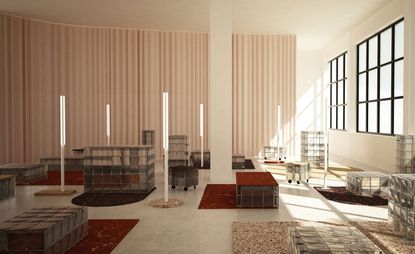 (Image credit: collectivedesignfair.com)
The unofficial design sister to New York's The Armory Show, Collective Design is moving into its sixth year with a roster of collectable design and new releases on display at Manhattan's Skylight Clarkson North. The 2018 edition sees the addition of two new areas of the fair: 'Hybrid', for pieces that sit between art and design and 'POV' which showcases installations and tantalising room sets. Here are our highlights to look out for...
Johanna Grawunder (opens in new tab)
The Milan-based designer and architect has been chosen as this year's Collective Influence Honouree, an initiative that merits the impact of a living designer or studio each year. For this, Grawunder (represented by Carpenters Workshop Gallery) will present installation 'Object Permanence', in addition to showcasing furniture and lighting, including 'Gioster' (pictured), a modernist geometric structure that takes its inspiration from the likes of Craig Ellwood and Mies van der Rohe.
Coil + Drift (opens in new tab)
The New York studio makes its Collective debut with a multidisciplinary showing. Founder John Sorensen-Jolink utilises his background as a dancer to create a live performance that explores how individuals move around their personal spaces, and engage with their treasures. In addition to the live performance and a short film, the show will celebrate new product launches: a cast resin and mirror-polished pendant and carved walnut wood mirror
Objects of Common Interest (opens in new tab)
The VIP lounge at Collective this year is going to be realised by the New York firm, Objects of Common Interest, in collaboration with Cambria stone. The duo will elevate the area that overlooks the Hudson river by creating a series of custom-glass blocks as seating set atop stone slabs in earthy tones. The conceptual space is set to engage with the light, creating a serene atmosphere for relaxing
Stickbulb (opens in new tab)
Stickbulb were inspired by the 100-year-old Pullman Couch Company building in Chicago for installation 'Fire and Ice'. Composed of a suspended light sculpture, the display will teeter between destruction and creation as an ode to the Chicago factory that caught fire in 2013. The sculpture will float above fragments of the former building, and will be joined by large printed images of the structure too.
Fernando Mastrangelo (opens in new tab)
The Brooklyn-based designer Fernando Mastrangelo is testing out architectural scale for the first time with his cast material sculptures. Nodding to Henri Rousseau's painting The Dream, Mastrangelo is forming an interior set that focuses on materials with a sand-cast sofa upholstered in blood red cashmere, and cement and crushed glass surrounds for a surreal yet domestic environment
INFORMATION
Collective Design is on view 9-11 March. For more information, visit the website (opens in new tab)
ADDRESS
Skylight Clarkson North
572 Washington Street
New York
VIEW GOOGLE MAPS (opens in new tab)