Party line: luxury drinks brand Clos19 is the toast of e-commerce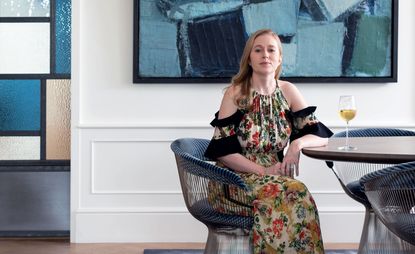 (Image credit: Oskar Proctor)
What are you bringing to the party? How do you set the table – and the mood? And more pertinently, why should champagne just be regarded as something to consume, when it offers such enormous potential for creativity? These were the questions Stéphanie Watine Arnault pondered in 2017 when she founded Clos19, the e-commerce platform that is speedily reinventing the landscape of wine and spirits for a new generation. Based in London, Clos19 focuses less on products and more on the things they foster – including unforgettable experiences, social celebrations and the ever-evolving art of hosting.

I meet Watine Arnault at her London apartment, where elegant furnishings are accented by an enviable art collection. She's the consummate hostess but also a highly educated and experienced entrepreneur and marketer, not to mention the niece of Bernard Arnault, CEO and chairman of the world's largest luxury goods company, LVMH. She's well versed in the traditions and customs of the wine and spirit industry, while having the insight and energy to question them. If anyone is in a position to change the rules, it's her.
Watine Arnault first started working in the wines and spirits arm of LVMH in 2013. She realised that traditional distribution models were giving their products a staid image. While fine wines and spirits have traditionally been aligned with other (and often more male-dominated) sectors, such as cars and watches, Watine Arnault instead began to draw parallels with the beauty industry: 'Today people watch videos on YouTube for guidance. "Here's a new lipstick and this is what you can do with it..." and so we buy that lipstick online, in the moment. Nobody was doing this for alcohol, and yet in so many ways it's the same thing. It's a product that you consume and create with.'

Clos19 is a luxury online retail destination and travel experience agency, the first of its kind dedicated to champagnes, wines and spirits. It offers a range of next-level luxe entertaining options, such as exclusive travel experiences to Ibiza and California, and event planning services (for weddings, for example). The brand has also commissioned carefully selected designers to create a catalogue of accessories, such as Murano glass straws by Campbell-Rey and, launching at PAD London this October, even a bar cart by Dimore Studio, all available from the brand's online boutique.
Clos19's product offering is accentuated by a wealth of content: articles on table settings and instructional cocktail masterclasses, tips on food pairing and the right temperature to serve your champagne. 'We wanted to give people ideas,' says Watine Arnault. 'We made it about the art of hosting, because most people consume our products with their friends or family. It's about sharing and gifting. We have barely scratched the surface so far – there's so much that can be done.'

As a further point of difference to old-world luxury, Clos19 is putting sustainability front and centre. The glass drinking straws were a response to the plastic crisis, for example, while another collaboration saw it join forces with London community kitchen Refettorio Felix for a succession of haute-cuisine dining experiences created using ingredients that would otherwise have been thrown away, and hosted by a different restaurateur on each occasion. It's a thoughtful take on the issue of food waste. 'If you really want to raise awareness, you have to also make it fun,' says Watine Arnault.
Dimore Studio's bar cart commission, meanwhile, was born more from practical necessity: Watine Arnault loves making cocktails for her friends, but doesn't want to retreat to her kitchen to do so. 'The bar cart is the perfect way to have everything at hand, it's functional but also a beautiful piece of furniture you'd be proud to have in your living room.' Clos19 chose Dimore Studio for its particular aesthetic, which plays on references from the 1950s and 1960s.

Does the hostess with the mostess have any more tips for entertaining at home? 'I try to make it easy – food made in advance, or served family-style. Drinks are much easier; a lot of time I have friends over just for drinks.' Watine Arnault's main advice is simply to be prepared. 'Because otherwise you just spend all your time running around and don't enjoy it yourself. And then what's the point?
As originally featured in the October 2019 issue of Wallpaper* (W*247)
INFORMATION
Receive our daily digest of inspiration, escapism and design stories from around the world direct to your inbox