New interiors collaboration melds Iranian and Californian influences
The Chelé X Shizaru collection is curated by interior designer Armita Ghasabi, and made in Iran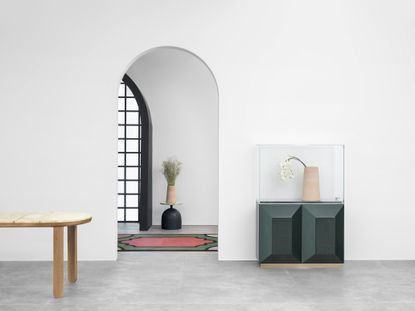 (Image credit: Sahand Behrouzi)
Even at a time when the global design scene is so well populated and creative innovation is rife, it's rare to come across a vibrant new aesthetic that stops you in your tracks. But the Chelé X Shizaru collection, curated by interior designer Armita Ghasabi and designed between Tehran and Los Angeles, has been born from a fresh mix of ingredients. Driven by the absence of modern Iranian design in today's creative market, and with the sole purpose to create items that translate internationally, this is – as Ghasabi puts it – 'the language of design spoken with an accent.'

As the name suggests, the collection is a collaboration. Studio Shizaru was originally founded by Mehrdad Mzadeh and Paulette Ghahremanian in 2009 with an emphasis on graphic design. With offices in Tehran and Los Angeles, they expanded into a multidisciplinary and intercultural practice changing gears between graphic and product design over the past few years.

In 2018, in partnership with electrical engineer and entrepreneur Amir Ghasabi, who recently moved back to Tehran from Toronto to run his family textile mill, Mzadeh and Ghahremanian started a new brand called Chelé Studios with the remit of providing everyday goods from fashion to objects for the home. Now, the two brands have fused to form a dedicated furniture and interiors collection, Chelé X Shizaru.
It was a natural transition, says Ghasabi, to collectively extend the concept of design in both two and three dimensional worlds. 'For us it is to continuously explore new translations of our culture through the blend of design disciplines, the experimental use of materials, adoption of international trends and most importantly, the preservation of local craftsmanship across Iran,' Ghasabi continues.

The rug collection, entitled 'Love's Garden' came first. Unconventional in shape and size, from above they look like puzzle pieces however, they are not meant to fit into one another, but to be topped with furniture and other objects.

The pieces in the Chelé X Shizaru collection are all made in Iran. 'This land offers a lot of stimuli,' says Ghasabi. 'Over the years we have found the thrill of travel lies in the people we meet along the way. Furthermore, we have built ourselves a network of creators and artisans around Iran to help us to produce our designs. We have strived to revolutionise the aim of materials, spontaneously combining them to create new forms, but at the same time we try our best to capture the local artisanal spirit and to remain close to the products hand-making process.'
As designers, Mzadeh and Ghahremanian are motivated by thinking about what kind of world they want to live in. 'Romantic, poetic, unique, sensitive, conscious are some of the words we think describe our world,' says Mzadah. 'At the core of this collection is the drive to simplify and romanticise cultural context and to build objects that support our modern beliefs and values. There has been a gap in design cultural context in Iran today, there aren't enough objects that represent us or the modern youth. The lack of objects drove us to create new ones to fit into our lifestyle.'

Highly influenced by their environment and the surrounding culture, the LA-Tehran blend is an intriguing one. 'The LA culture is rather extroverted and the Tehran culture is rather introverted,' explains Ghasabi. 'In LA inspirations and raw materials are in constant supply but in Tehran your involvement is with people more than anything. Both cities are culturally diverse and full of contrasts – and this is also what bridges the two cultures in our designs.'
INFORMATION
chelexshizaru.com (opens in new tab)