A neo-romanesque church in San Francisco is home to the new Carpenters Workshop Gallery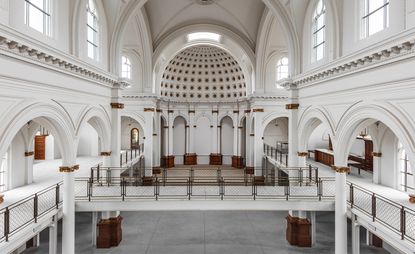 (Image credit: Courtesy Ken Fulk and Saint Joseph's Arts Society)
In 1989, an earthquake destroyed San Francisco's St. Joseph's church, an architectural jewel built in 1913 that had subsequently been designated the city's Landmark #120. The massive neo-romanesque structure was abandoned through the 1990s and 2000s until design impresario Ken Fulk rechristened it as the Saint Joseph's Arts Society this fall after a multiyear restoration. True to the site's impressive origins, the building has found its newest tenant in Carpenters Workshop Gallery, the contemporary design gallery, which opens today with an inaugural group show.

While San Francisco's identity is inextricably linked with technology and forward motion, the recent addition to the art landscape nods at the city's historic cultural identity with its classical space, one full of up-to-the-moment design.

Founders Julien Lombrail and Loïc Le Gaillard, who celebrated Carpenters Workshop Gallery's original London location's 10th anniversary last year, have also recently expanded the gallery to Paris and New York. They chose their first West-Coast location to exist within Saint Joseph's, using a 9,000 square feet of the building's mezzanine.
Nearly 100 years after the construction of the church during what was the city's turn-of-the-century heyday, San Francisco is inarguably experiencing a similar cultural peak that progressively attracts tastemakers. While the arts club, recently opened, will be strictly for subscribers, design enthusiasts will be able to visit Carpenters Workshop Gallery along with other art and design spaces such as Assouline book corner, Mr. Fulk's Flower Factory and the only US outpost French apothecary, Buly 1803. The private club will be open to the public for arts-related events.

The Carpenters Workshop Gallery outpost will run under the leadership of director Ashlee Harrison along with Alison Harrington, and will offer a rotating schedule of exhibitions. Programming will include biannual solo exhibitions from the gallery's growing stable of artists, which include the likes of Rick Owens and Maarten Baas. The opening exhibition features designers such as Studio Job, Atelier Van Lieshout, Mathieu Lehanneur, Vincenzo de Cotiis and Nacho Carbonell, who offers an immersive light sculpture installation. It's a renovation that both looks forward and backward at once.
INFORMATION
For more information, visit the website (opens in new tab)