Groundbreaking winners from the Brand Impact Awards 2021
The burgeoning impact of brands was once again judged this year as part of Brand Impact Awards 2021 – here are some winners that challenged every aspect of the criteria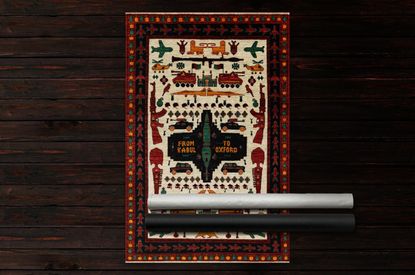 (Image credit: Williams Murray Hamm)
The winners of the Brand Impact Awards 2021 – an international awards scheme that celebrates creative excellence and consistency across branding design – were revealed in a winners' showcase. The awards are brought by Creative Bloq, in association with Wallpaper*, and as usual the bar was set high by the discerning judging panel, which includes Wallpaper* editor-in-chief Sarah Douglas.
During more than 30 hours of video debate, the judging panel had the challenge of whittling down a record of 230 entries to a shortlist of 39 projects, from 26 different agencies. In total, ten Gold Awards, 14 Silver Awards and 20 Bronze Awards were presented, plus the Social Impact Award and Best of Show.
Read on for more about some of our top picks from this year's Brand Impact Awards.
Best of show shortlist – Afghanistan's First All Female Orchestra by Williams Murray Hamm
Supporting an already commendable cause that was given fresh relevance by the escalating situation in Afghanistan, this stunning woven rug by Williams Murray Hamm sparked admiration and debate. A charity founded in the belief that music has the power to transform lives, the Orchestra of St John's (OSJ) raised funds to bring Afghanistan's First All-Female Orchestra to Oxford, UK, to support their music education. Williams Murray Hamm designed a traditional handwoven rug incorporating the apparatus of war to depict the orchestra's incredible journey. A handwoven wool rug is an important symbol of Afghan culture, often used as a stage.
wmhagency.com (opens in new tab)
Social Impact winner – Love Welcomes by Saboteur
From refugee support to mental health awareness to the future of sustainable packaging, Love Welcomes demonstrated diverse ways in which great design can make a difference. A social enterprise that 'helps refugee women stitch their lives back together', Love Welcomes reclaims life vests and blankets worn by refugees as they wash up on European shores and transforms them into beautiful products. Founded in 2017, Love Welcomes grew fast, especially following a high-profile collaboration with Banksy. But this rapid expansion led to a somewhat confused brand expression that needed attention, duly delivered by Saboteur.
saboteur.studio (opens in new tab)
Silver – Pencil Box by Studio Sutherl& – Craft-In-Branding: Illustration
Created as a promotional tool to show off Boss Print and Boss Box's box-making, printing and foiling skills, these alluringly crafted limited-edition boxes of pencils are useful, playful and desirable in equal measure. A series of four distinctive characters – Bubo the Owl; Ningyo, a fish-like creature; Calaca, a Mayan skeleton; and Helios, the sunflower – were imagined through the use of basic pencil shapes (such as shavings, circles and points) as building blocks. The boxes were finished to a high spec with a combination of print foils and four contrasting Fedrigoni papers, adding a luxurious midcentury feel to the range.
studio-sutherland.co.uk (opens in new tab)
Silver – FRAHM by Supple Studio – Fashion
FRAHM challenges the conventions of mass-market clothing and fast fashion by operating as an online-only business with a preorder model. The company also reduces waste while minimising its impact on the planet. The macro photography of UK-native beetles printed large-scale on boxes and bags symbolises FRAHM's resilient all-weather technical garments. In collaboration with the mental health charity Mind, every purchase supports mens' mental health. To honour this collaboration, Supple Studio employed smart copywriting on its bespoke packaging tape.
supplestudio.com (opens in new tab)
Bronze – The Royal Mail Sherlock Holmes by NB Studio – Craft-In-Branding: Illustration
Royal Mail asked NB Studio to create a set of four stamps to capture the eerie and mysterious feel of four of Conan Doyle's best-loved Sherlock Holmes stories. Coinciding with the ten-year anniversary of the BBC's adaptation of the series, illustrator Karolis Strautniekas picked out significant clues from the stories using strategically placed shafts of flight, to stay faithful to the Victorian series – with a modern twist.
nbstudio.co.uk (opens in new tab)
Bronze – Redbreast Irish Whiskey Bird Feeder by Nude Brand Creation – Wine, Beer & Spirits
Featuring an intricate copper casing with a simple but ingenious dual purpose, this limited-edition bottle of 12-year-old Redbreast Irish Whiskey can be filled with bird feed and hung in the garden. Launched in partnership with the Birdlife International charity, each one of the small run of 2,000 bottles sold raises €15 to conserve and restore bird habitats.
nudebrandcreation.com (opens in new tab)
Bronze – ZIJI by andstudio – Technology and Telecoms
Ziji phone cases are designed for creative individuals to express themselves. Andstudio's brief was to create a friendly brand expression that can accommodate a broad range of ideas and sources of inspiration. Based on a thought bubble, the Ziji character acts as a warm, supportive helper to lead creators from their initial idea right through to adding the finishing touches to their new phone case.
andstudio.It (opens in new tab)