Best bar none: the making of Handmade 2015's minibar, by Cecilie Manz and Rud Rasmussen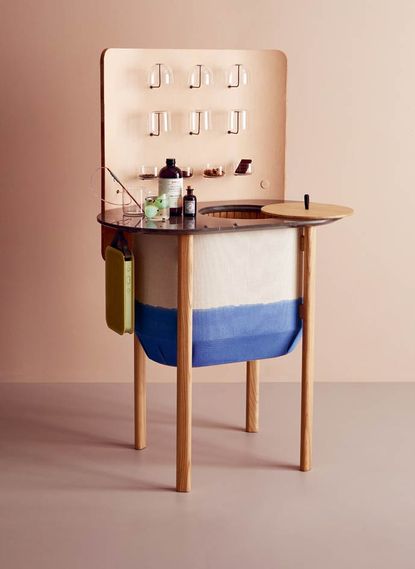 (Image credit: TBC)
A frequently overlooked component of the standard hotel room, the minibar has an irresistible appeal that, until now, was based purely on its tempting contents rather its good looks – even when located in the most design-conscious of accommodation. Often seduced, but never truly satisfied, we figured it was high time to create an aesthetically pleasing piece of furniture to display the pricey tipples and fancy nibbles.

We approached the award-winning Copenhagen-based industrial designer Cecilie Manz, best known for her practical furniture designs and acute attention to detail. 'My first reaction was that I never thought of designing a minibar. But yes, of course, there is so much you could do to improve it,' says Manz.

To help her build the minibar, we enlisted the help of age-old cabinetmaking firm Rud Rasmussen, also based in the Danish capital. 'I was pleased that the brief had a strong, functional challenge,' says CEO David Obel Rosenkvist. 'The virtues of our workshop have always been the finest craftsmanship, uncompromising quality in materials and a high degree of functionality.' Set up by cabinetmaker Rudolf Rasmussen in 1869, the company became known for functional furniture, flourishing in the 1960s before a period of uncertainty in the 1980s, when the showroom and factory building were set for demolition. Instead, the authorities hit upon the idea of establishing a craft centre. Since 2011, the company has been owned by fellow furniture outfit Carl Hansen & Søn, creating a super brand to promote the work of Danish icons such as Kaare Klint and Hans Wegner.

There is a professional history between Manz and Rosenkvist. 'I've worked with Cecilie for years,' says Rosenkvist. 'Within the framework of the Wallpaper* Handmade concept, there is no better match.'

Back in her studio, Manz devised a minibar wishlist. 'I used my experiences as a starting point,' she explains. She also found inspiration in Rud Rasmussen's history, past collections and key materials, such as European cherry and grey marble. 'A minibar cabinet should be a place where you find comfort and pleasure,' muses Manz. She also produced a detailed set of plans, the likes of which even Rosenkvist admits startled the craftsmen. 'The workshop was, for a short moment, brought out of its comfort zone.'

Craftsmen briefed, Manz focused on the accessories. 'Delicate glasses are important, as is the ability to play music, and a carefully selected range of food and drinks,' she says. The result is graceful Iittala glassware, a Bang & Olufsen sound system, and drinks and snacks such as Austrian Riesling, Swiss dark chocolate, Japanese koi hojicha tea and Spanish roasted almonds, on a marble top by Italian natural stone company Testi.
Manz's perfectionism resulted in a smart, practical design, a cabinet boasting the finest details, materials and craftsmanship, while highlighting her playfulness and simple aesthetic. 'The transformation of a well-known object was a challenging, yet rewarding journey,' says Rosenkvist. 'We learned a lot from Cecilie, her team and their way of working, something we can thank Wallpaper* for.'

As originally featured in the August 2015 edition of Wallpaper* (W*197)