Bernardo Paz: from mining magnate to gardener of earthly delights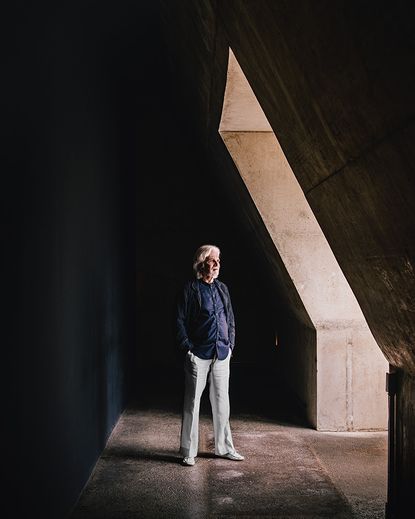 (Image credit: Mark Mahaney)
Wallpaper* Newsletter
Receive our daily digest of inspiration, escapism and design stories from around the world direct to your inbox
Thank you for signing up to Wallpaper. You will receive a verification email shortly.
There was a problem. Please refresh the page and try again.
Towering above his employees and most of his guests, with flowing locks and a beard as white as his linen trousers and moccasins, Brazilian mining magnate and modern-day Medici Bernardo Paz looks a little like God as he goes about his mission of building heaven on earth.

In Paz's contemporary garden of Eden, Inhotim, every detail has been designed to reset the way visitors live their lives. The sprawling utopia, an hour from his home town of Belo Horizonte and designed as a perfect marriage of art, nature and architecture, is much more than a playground for an eccentric millionaire. It's Paz's gift to the world – a beautiful, peaceful place from a man whose name means peace.

Mines, as the inhabitants of Paz's home state of Minas Gerais know only too well, are a finite resource, and the Mineiros, as the locals are known, have seen their riches shipped off to the world for nearly two centuries – with all too little to show for it.

Paz has turned the concept of one-off extraction on its head, using the wealth accumulated from gouging iron ore from the mountains that surround Belo Horizonte to plant the seeds of a contemporary crop, one he believes will bear fruit 'for a thousand years'. The profits – more than $250m – generated from shipping three million tonnes of iron ore a year to mills in Brazil and China, are ploughed into his dream.

'I want to create a state of mind,' he says. 'The hardest thing is to change the way people see the world, but beauty changes people's lives.' Sat in the living room of his Inhotim home, in one of four blood-red Sergio Rodrigues armchairs set around a gnarled tree trunk – one of 110 works by Hugo França at the park – it's easy to see how this kind of beauty could have a profound impact. Paz lives life beautifully, there's no question. But there's more to this mining magnate's mission than a collection of costly objets d'art and designer fixtures and fittings. He's on a crusade to change things for good.

'You can see in the lobby of the greatest constructors, architects and urbanists that we have to agglomerate cities, build the biggest possible cities so the world will be better. This is a tragedy,' he says. 'They want to construct 200-storey buildings that are impossible to leave. It's absurd, immoral. A few years from now people aren't going to be able to live in big cities. No intelligent person is going to put up with this any more.

'Whether he or she is born in New York, Paris or London, the first thing a child draws is a little house. I used to always ask, "Why?" We live in a world with instant access to everything but our utopia is a little house. It's through this little house we can see everything that we don't have today.'

Paz's little house covers 1,000 hectares and is home to possibly the most impressive contemporary art collection in the southern hemisphere. With more than 4,000 species of plants, 500 works of art and 23 contemporary galleries, it costs $11m a year to pay the 1,000 gardeners, builders and gallery staff who help him shape his ever-evolving masterpiece.

Ten years into his project, it already takes four days to see everything, yet it's far from finished. When his plans materialise, there will be a further 25 galleries, four hotels with 1,600 beds, a convention centre hosting festivals and events organised by Austin's South by Southwest, an airport and thousands of 'little houses' for locals linked to the park.

Like all great creators, he's already seen the finished article in his mind. At 66 years old, the race is on to finish his masterpiece during his lifetime. 'It's not a dream,' he says. 'You are seeing a pyramid of the future constructed by one person.'

Inhotim's curatorial team, headed up by NY-based Allan Schwartzman and Jochen Volz, has gathered together a body of work that touches on the most pressing issues of our age – religion, sex, poverty, social exclusion, genocide, urbanisation and environmental devastation. Important works by influential Brazilian artists – Tunga, Hélio Oiticica, Cildo Meireles, Miguel Rio Branco, Adriana Varejão and Vik Muniz – create a thought-provoking dialogue with site-specific interventions by international artists, including Doug Aitken, Matthew Barney, Chris Burden, Janet Cardiff, Claudia Andujar, William Kendrick and Doris Salcedo.

Throughout Paz's utopia, the art takes centre stage. There's no room for household architectural names like Foster + Partners or Herzog & de Meuron, nor is there a place for Brazil's Pritzkers – Oscar Niemeyer or Paulo Mendes da Rocha. Instead, Paz has placed his faith in young local practices, Arquitetos Associados and Rizoma Arquitetura, the latter a small team formed by his niece Maria Paz and Thomas Regatos. Youth has been given the task of housing the works with intelligent interventions built in conjunction with the artists. Far from the rotating doors of galleries in London and New York, Inhotim's idyllic setting gives visitors the chance to feel the work, with each encounter throwing up another revelation. It's the antithesis of Disneyland, says Paz, a place built to inspire future generations. 'Culture was created to educate children,' he says. 'I think art is everything a child can learn, can take something from, save it forever and begin to understand all the other lessons of life.'

Visitors are literally invited to submerge themselves in the works. Enthusiastic children do exactly that, becoming unwitting protagonists in Cosmococa, the cocaine-inspired installations by Hélio Oiticica and Neville d'Almeida. Further up the hill, kids get the chance to dive into a three-dimensional version of Jorge Macchi's Piscina (swimming pool) or spell their name out with Marila Dardot's alphabet plant pots. Nowhere else on earth is art so easily accessible or enjoyable as Inhotim.

Magic Square # 5, a work created by Hélio Oiticica in 1977 and recreated, posthumously, in the gardens of Inhotim 30 years later, perhaps epitomises Paz's particular outlook better than any other. Oiticica's colourful plaza – a garden, public square, labyrinth, fun park or warehouse, all in one ten-metre square – invites Inhotim's guests to live their dreams in one small, perfectly balanced place. 'Inhotim, like Disneyland, was created to be a heaven, but this heaven is going to develop intellectual capacity directed towards creating a better quality of life. A world where we have 24 hours a day for work and 24 hours a day for pleasure,' says Paz.

Bernardo Paz is one of our 20 Game-Changers. Read about the other 19 here

As originally featured in the October 2016 issue of Wallpaper* (W*211)
INFORMATION
For more information, visit the Inhotim website
Receive our daily digest of inspiration, escapism and design stories from around the world direct to your inbox
Originally hailing from the UK, Rainbow Blue Nelson first landed in Colombia in search of Tintinesque adventures in 1996. Subsequent forays from his Caribbean base in Cartagena have thrown up a book about Pablo Escobar, and the Wallpaper* City Guides for Santiago, Brasilia, Bogota and Miami. Currently completing a second book about Colombia whilst re-wilding 50 hectares of tropical rainforest on the country's Caribbean coast, he's interviewed some of South America's most influential figures in art, design and architecture for Wallpaper* and other international publications.