Throwing shapes: Austin's ceramicists give traditional pottery a new spin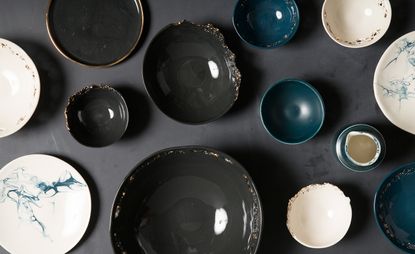 (Image credit: press)
Austin's thriving creative community is quickly gaining esteem for adding artistic ceramics to its design repertoire. In a year where the maker movement is in full swing and pottery is on-trend, Texas' eclectic capital city is well on its way to joining the likes of Brooklyn and Portland by embracing the art of handmade. From tribal carvings in terracotta tones to colorful splatters and embellished gold surfaces, this previously folksy craft is getting an upgrade from Austin's modern-day makers. Here we shine a light on five individuals giving traditional pottery a new spin...
Since debuting her first collection in 2013, Eliana Bernard has been a favourite of Austin's ceramics community. Her product offerings range from decorative pieces and dinnerware, pictured here, to a recently launched line of marbled porcelain earrings. She is best known for her Lace collection, pieces that are characterized by smooth porcelain and delicate lace-like cutouts. Mould making, slip casting and slip trailing are employed to create this intricate design. 'This pattern is created in an intentional yet uncontrollable manner making each piece one of a kind,' she explains. The final product: a simple form with a striking pattern in a dark, bold color brushed with gold luster.
Born and raised in Austin, Lindsey Wohlgemuth graduated with a degree in Fine Arts before starting Foxwares, a company creating simple wares for the modern home. She looks to the history surrounding ceramics to guide her work. 'The craft of ceramics hasn't changed much since the practice began,' says Wohlgemuth. Launching Foxwares without a kiln, she was forced to experiment with simple motifs and decorative carvings and translate them into modern designs. Her glazes are hand mixed in the studio resulting in pieces with rich, warm palettes of white, terracotta tones and charcoal.
After enrolling in a free elective at the Savannah College of Art and Design, Samantha Heligman became obsessed with making ceramics. 'Settle Ceramics was started with the intention to create utilitarian pieces for cooking and eating,' says the artist. Using both porcelain and stoneware in her pieces, Heligman performs a balancing act between delicate and rugged materials. Her raw edged tableware is given playful splatters of color presented against a stark white background. The artist credits Austin as the creative force driving her work, setting up shop in a dream-come-true shared studio space on the city's eclectic east side.
Sitting at the helm of Austin's burgeoning ceramics industry is artist Keith Kreeger. 'My work is driven by process. The moment you think about the results is the moment your project has failed,' says the designer. Kreeger has been mastering the art of porcelain for 20 years and is perhaps most known for his restaurant partnerships. His crisp, minimally embellished tableware can be found in W Hotels around the country and such restaurants as Austin's esteemed Qui. 'Austin is incredibly well suited to collaboration and welcomes those who add to its existing culture,' explains Kreeger. 'I can't picture creating work anywhere else.'
Beginning his career as a carpenter, Bob Trevorrow of Grain Ceramics threw his first pot a year ago and never looked back. Trevorrow keeps the forms simple, opting for a modern silhouette, while maintaining a handmade aesthetic. His body of work is characterized by subtle shades of grays and blues. A wax resist technique is employed to create a layered texture that reveals portions of the surface's bottom layers. For inspiration he looks to nature, 'Iceland's wintertime scenery, exposed lava rock and gray-blue waters are mesmerizing,' recalls Trevorrow. 'I try to humbly recreate some of that beauty and serenity with porcelain