Spirit-raising: Arik Levy designs spiral-shaped bottle for Hennessy 8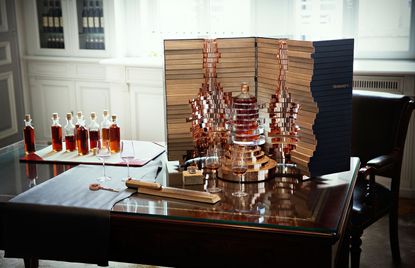 (Image credit: Hennessy)
For more than 200 years, the Hennessy clan and the famille Fillioux have created the finest cognacs for royals and rappers. The former founded the maison in 1765; the latter has been its master blenders since the early 1800s.

Last week, after 50 years at the helm, seventh generation master blender Yann Fillioux handed the keys of the cellar to his nephew Renaud Fillioux. To mark the occasion, the maison has created Hennessy 8, a commemorative blend that comes in a limited edition bottle and case designed by Arik Levy (opens in new tab).

Levy worked with Baccarat to design the 60kg carafe. It features eight crystal rings that loop around a bottle inspired by the tasting flacons of old and is wrapped in a wooden case made in oak from the Hennessy cooperage (where barrels are still made by hand). A copper inlay references the metal tools used in the distilling process.

'I used all the raw materials associated with making cognac,' says Paris-based Levy, who worked with Hennessy on a methusaleh for its XO in 2012. 'I was asked to imagine where the company would be in 200 years' time. For that reason, it's a highly technical work which took three years to develop.'

The blend was equally complex to create. It's a fusion of eight eaux-de-vie, seven of which were created by Yann, one by Renaud. 'Each has a strong personality and combining them was a challenge,' explains Fillioux senior. There are no plans to produce any more of the rare elixir, and Levy has created only 250 bottles. Which for €35,000 each can be yours.
INFORMATION
For more infromation, visit the Hennessy website (opens in new tab)
Photography courtesy Hennessy
Emma O'Kelly is a contributing editor at Wallpaper*. She joined the magazine on issue 4 as news editor and since since then has worked in full and part time roles across many editorial departments. She is a freelance journalist based in London and works for a range of titles from Condé Nast Traveller to The Telegraph. She is currently working on a book about Scandinavian sauna culture and is renovating a mid century house in the Italian Lakes.