Top designers select emerging talents for Aram's 15th anniversary exhibition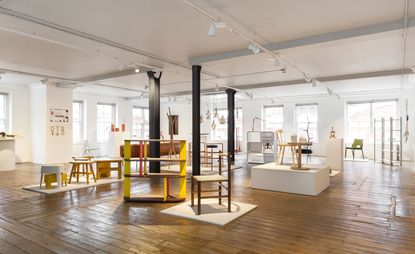 (Image credit: Amandine Alessandra)
London's Aram Gallery has hosted over 64 shows in its Covent Garden showroom over the last 15 years. In the process, director Zeev Aram has provided a platform for countless emerging talents, many of whom have gone on to become design super powers – Thomas Heatherwick, Ineke Hans, Industrial Facility and Martino Gamper to name just a few.

To celebrate its 15th anniversary, the gallery decided to invite back some of its most interesting alumnus to showcase an exhibit of their choice. And, in order to continue the gallery's proud tradition of championing new talent, Aram also asked each exhibitor to nominate an emerging designer as a pairing exhibitor.

While some designers chose to showcase a piece that has historical relevance to the gallery – like Jasper Morrison's Thinking Man's chair, which was presented by Aram in 1987 where it was spotted by Giulio Cappellini – some took the opportunity to make something new, like Ptolemy Mann, who debuted a new addition to her ongoing series of 'Textile Facades'.
The established designers' pieces are showcased next to the work of their nominated emerging designer, some in a very clear dialogue.

'We have over 30 very distinctive designers involved so getting everything to work in harmony has been tricky,' explains Aram curator Riya Patel. 'Hopefully you'll observe some common characteristics in the pairs, or a certain way of looking at design that they both share.'

'The most successful display in this respect is Peter Marigold and Ray G Brown,' she continues. 'Brown's quirky ceramic experiments are hidden inside Marigold's raw wood Cleft cabinets – they both share a wonder for materials and making.'

Similarly, Bethan Laura Wood's Particle jewellery with its colorful veneer marquetry is displayed next to Fernando Laposse's Totomoxtle – a surfacing veneer made with native Mexican corn husks that are naturally colourful.

'Both work with materials connected to a specific location and history, and both explore notions of what is precious,' says Wood, pointing out the parallels between the two works. 'In both, marquetry is the conduit to celebrate the variation in the chosen materials.'

Meanwhile Max Lamb's Ali Bar chair, made by bending a 1 1/4" solid aluminium bar without a mandrel, hydraulic press or other mechanical former, finds its perfect partner in Parsha Gerayesh's Mono 2.0 spectacles, which are made from one continuous line of steel.

'There are lots of surprises and new names in the gallery, especially from outside the UK, which is what we really hoped for,' enthuses Patel. 'As it's usually us choosing emerging talents, we were keen to hand that job over and see what happens.'
INFORMATION
'Designers select designers' is on view until 28 April. For more information, visit the Aram Gallery website (opens in new tab)
ADDRESS
Aram Gallery
110 Drury Ln
London
WC2B 5SG
VIEW GOOGLE MAPS (opens in new tab)