1969 Apollo 11 Mission Control Centre gets interior restoration
For 50th anniversary celebrations, NASA has recreated the Johnson Space Centre in Houston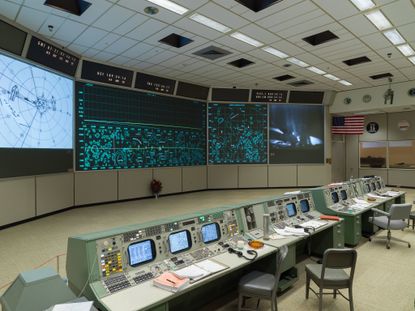 (Image credit: TBC)
As the world reflects on the 50 years since Neil Armstrong took his first steps on the moon, NASA has worked with a team of artisans and craftspeople to painstakingly restore the Johnson Space Centre in Houston back to how it would've looked in 1969, when it was used for the Apollo 11 Mission Control.

In a project that has taken over six years to complete, the iconic room is now complete with the exact items it once was filled with – from the furniture and decoration to ashtrays, discarded headsets and console screens.

The two-tone 'limed white' boucle wallpaper has been matched to a tiny square discovered beneath a wall-mounted fire extinguisher, while the woven effect of the original carpets in broadloom format has been mimicked, using custom yarn-dyed thread twisted into a single barber pole yarn.

'The colour we ended up matching is not necessarily exact to the original, but more that shade after years of use in Mission Control,' says JSC Historic Preservation Officer Sandra Tetley. 'It's got the nicotine stains and yellowing and goes with the wallpaper beautifully.'
The original wheeled Steelcase swivel chairs used by the controllers have been reupholstered custom fabric, which was single-handedly woven by expert craftsperson Mary Welch to match a tiny swatch borrowed from the Steelcase archives.

Melanie Stanford, a proprietor of the Textile Preservation Services of Texas, was tasked with removing, cleaning, repairing and reupholstering the 50-year-old fabric from the rows of red and orange theatre-style chairs in the viewing room, which were – at the time – considered a real innovation.
RELATED STORY
To retrieve Apollo era equipment and décor moved into other buildings, the restoration team scouted offices and instigated a company-wide scavenger hunt by posting in NASA's Daily Roundup online newsletter, prompting staffers to appear with black-woven three-ring binders, pens and headsets by the boxload.

One returned two amber glass cigar ashtrays used during the mission – preferred by the chain-smoking Apollo 11 Mission Control team as the smaller, square cigarette ashtrays filled too quickly – from his home where they had been used to catch water from his houseplants.
Other items – such as a 40-cup, polished aluminium, electric Regal 7016 Coffee Urn on tapered walnut legs, aka the 'Regal Rocket', identical to the model used in Mission Control and still boxed with its five-year warranty and a 50-year-old unopened creamer – were sourced by Stern and Bucek's Preservation Specialist Delaney Harris-Finch.

In what was once the station of flight director Gene Kranz, you can see exactly what he saw as Armstrong stepped down onto the Moon's surface, including a ghostly echo of the astronaut's heartbeat.

Tetley says the team is extremely proud of the historical accuracy they've been able to observe throughout the restoration. 'One of the coolest things is seeing the flight controllers when they come in now to the room. One guy that teared up talking about the mission, while Mr. Kranz came in the door and hung up his coat like it was another day at the office.'