Andrée Putman Retrospective, Paris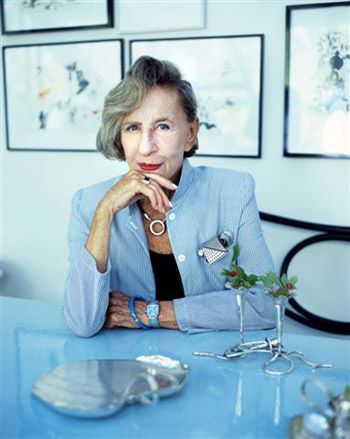 (Image credit: TBC)
Everything – almost – is black and white in Andrée Putman's world. Known as la reine du damier (the queen of the checkerboard), the grande dame of French design has installed her signature monochrome graphics on everything from the Concorde's interiors to the Morgans Hotel in New York, with which she invented the boutique hotel concept. Yet her long and varied career, which spans over 50 years, is not as clear-cut as her designs.
Opening today in the Hôtel de Ville de Paris, a new retrospective exhibition – the first to be held in France – helps clarify the various unexpected moves in Putman's extraordinary eclectic career. It showcases examples of her work – including reconstitutions of the interiors of the Concorde and the famed Morgans Hotel bathroom – and features a work-in-progress section that shows the creative process behind Putman's designs for the house of French philosopher Bernard Henri Levy. Designs that have particularly inspired her, such as Robert Mallet-Stevens' 1930s steel chair, are also on display.
Born in Paris in 1925, Putman was destined by her musician mother to become a concert pianist. Luckily for the French design world, it all came to a stop when a professor told the young Andr ée: 'You are very talented, but we will only know in ten years if you are a great composer.' For Putman, that was it. She abandoned her musical career, and moved from the 'reign of the ear' to 'the kingdom of the eye'.
Putman grew up in a very artistic family, and married art critic and publisher Jacques Putman. She was deeply influenced by artist friends such as Pierre Alechinsky, Yves Klein, Niki de Saint Phalle and Alberto Giacometti – all of which are paid homage to in the exhibition. 'I feel much closer to artists than to designers,' she explains. 'I have a slightly different attitude, because actually this was all a bit of an accident.'
After a brief stint working for magazines, in 1958 Putman became artistic director for the home accessories range of Prisunic, a chain of shops known for its cheap fashion fixes. There she promoted the idea of good, honest everyday designs for every budget. This taste for simplicity is apparent in the Paris show. 'My mother is somebody who likes to show her work in a simple manner. She particularly enjoys the fact that this is a popular, free-entry show, accessible to all,' explains her daughter Olivia Putman, head of the Studio Andrée Putman and curator of the exhibition.
Putman then worked for various style agencies and designed private residences and boutiques for friends such as Karl Lagerfeld and Thierry Mugler, before setting up her own company, Écart, in 1978. It specialised in reeditions of furniture by designers such as Eileen Gray, Mariano Fortuny or Robert Mallet-Stevens, who were mostly forgotten at the time. At that point, Putman had almost abandoned the idea of an interior design career – hence the name of her company (Écart meaning 'side step' in French).
Then came the Morgans Hotel, and everything changed – Putman was almost 60 at the time. The New York project was followed by many hotel collaborations, such as Paris' Le Saint James Club or Köln's Im Wasserturm, culminating with the opening of The Putman hotel in Hong Kong in 2007. Her elegant, pared-down style, which she says was influenced by the cloisters and huge halls of the Romanesque abbey she grew up in, became synonymous with French chic.
'In the 1970s, my work was said to be "bizarre",' explains Putman. 'But it was absolute classicism. When you look at it today, you could think that it was designed yesterday, 20 years ago, or in a month.' You have until 26 February to see these timeless designs for yourselves.
Léa Teuscher is a Sub-Editor at Wallpaper*. A former travel writer and production editor, she joined the magazine over a decade ago, and has been sprucing up copy and attempting to write clever headlines ever since. Having spent her childhood hopping between continents and cultures, she's a fan of all things travel, art and architecture. She has written three Wallpaper* City Guides on Geneva, Strasbourg and Basel.